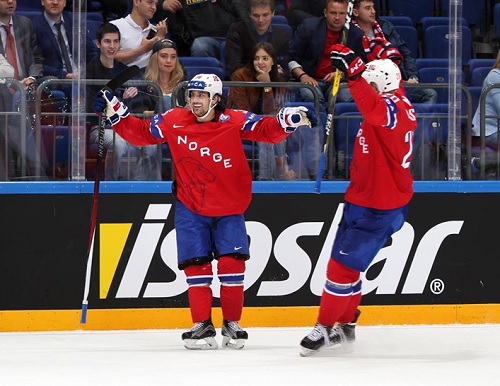 They were hanging around again.
Over halfway into Tuesday's round robin match-up between Norway and Kazakhstan, the score stood knotted at two, despite the overwhelming shot differential in favor of the Scandinavians.
Kazakhstan wasn't going down without a fight. However, Norwegian pivot Mathis Olimb had other plans.
Landing a haymaker in the form of his second goal of the tournament, the Kloten Flyers forward pushed his side ahead for good, notching the game-winning score in a 4-2 Norwegian victory at the 2016 IIHF World Championships.
Norway needed a victory: With a mere point separating it from cellar-dwelling Kazakhstan, coach Roy Johansen's team desperately sought three points to push it clear of last place in Group A.
Less than four minutes in, 19-year old blueliner Johannes Johannesen would land an opening jab, gifting his squad an early one-goal lead on a seeing-eye point shot that snaked past Kazakh goaltender Vitali Kolesnik.
However, Kazakhstan would find its equalizer soon thereafter, taking advantage of Norway's third-from-last-ranked penalty killing unit. Latching onto a feed from fellow countryman Dustin Boyd, Canadian transplant Nigel Dawes one-timed an effort past Norwegian keeper Lars Haugen, tying things up in spite of being outshot 18-9 on the period.
The second frame followed a similar script: Norway once again fly out of the gates, reclaiming its lead 13:04 in courtesy of an even strength Ken Andre Olimb tally only to have it wrested away by a power play goal from American expatriate Brandon Bochenski.
Peppering the Kazakh net with 12 shots, the Norwegians threw the kitchen sink at Kolsenik's cage. And, with less than two minutes remaining before the second intermission, they would finally snatch the lead away for good.
Combining with his brother Ken Andre, Mathis Olimb popped a shot past Kolesnik, regaining momentum for his side heading into the game's final frame.
In the Norwegian zone, Lars Haugen stayed sharp, turning aside the five shots he faced in a sparse third period of work before New York Rangers winger Mats Zuccarello iced the contest with an empty-netter.
With the victory, Norway firmly plants itself in the thick of a congested Group A leaderboard, tied with neighboring Sweden for third place with five points. Following an off-day, the team will once again take the Moscow Ice Palace rink, set to collide with a first-place Czech Republic contingent that has outscored opponents 11-5.
The Kazakh's fortunes appear only to worsen, as they are scheduled to square-off against Sweden in its second back-to-back slate of the tournament.