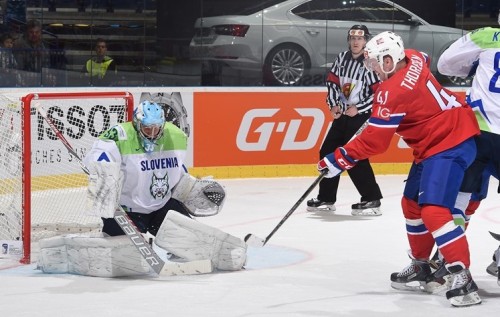 Article one of two. 11:37 PM. Somewhere along the Schuylkill River. I've been talking like Nicolas Cage for 24 hours now. Send help.
Speaking of help, Team Norway served themselves a healthy dose of it, trouncing struggling Slovenia by a final score of three goals to one. Spurred on by a high-flying power-play unit, the Norwegians capitalized on three of four special teams opportunities, punishing a struggling Slovenian squad that now sits winless in five appearances at the 2015 IIHF World Championships. Starting his fifth consecutive game, Norwegian netminder Lars Haugen turned in another strong performance, logging a .944 Save Percentage en route to his second consecutive win. The Norwegian defense-slammed at times by opposing forces-effectively contained a punchless Slovenian attack, surrendering a paltry 18 shots against and limiting star centerman Anze Kopitar to a lone shot on goal.
In terms of offense, the Norwegian onslaught was led by the veteran trio of Patrick Thoresen, Anders Bastiensen and Jonas Holos. Opening the scoring, Thoresen tacked Norge on the board, skilfully redirecting a Mathis Olimb slapshot from the right faceoff circle five-hole on goaltender Robert Kristan. Disadvantaged on the scoreboard, the Slovenian contingent answered right back; 15 seconds into the second period, Jan Mursak corralled a stretch pass from Kopitar, skating in and popping a wrister over the left shoulder of a stranded Haugen. That goal, however, would prove to be the lone bright spot on the attack for Slovenia, as they proceeded to be outshot 11-6 and surrender the lead for good. Shielding the puck along the half-boards, Dusseldorfer EG forward Ken Andre Olimb fed a backhanded pass through the slot, evading the outstretched stick of Sabahudin Kovacevic. Finding Anders Bastiansens' tape, the puck soon found itself ripped into the twine, the seeing-eye one-timed shot finding its way through Kristan's wickets yet again.
Rounding out the scoring, point-per-game producer Jonas Holos of the KHL's Lokomotiv Yaroslavl capped off a resounding Norwegian win. On the one-timer once more, Holos wound-up and got all of a Mathis Olimb set-up pass, hitting the puck flush and sending the saucer careening towards the cage. Screened by Thoresen, the Slovenian goalie stood little chance of deflecting the attempt, conceding between his blocking arm and side and wrapping up a miserable night for Matjaz Kopitar's penalty-killing unit. With their most recent win, the representatives of Norway inch closer to completing an improbable run to the playoff round; slated to face the struggling Danes Saturday night, a win in this tilt could springboard Roy Johansen's team into the playoff picture, carrying the momentum of a three-game win-streak into a crucial match-up with second-placed Belarus.
One down, one to go. For the record, the word of the day is "dadbod".