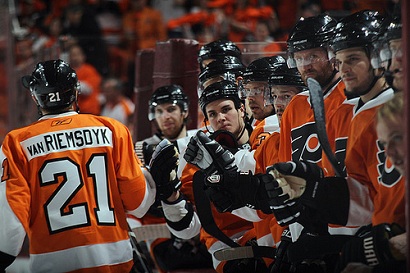 Some good news and some bad news came for the Flyers yesterday. The good news is that James vanRiemsdyk will not require surgery on his hip, and the bad news is that Ryan Suter does not show any signs of interest in putting on the orange and black.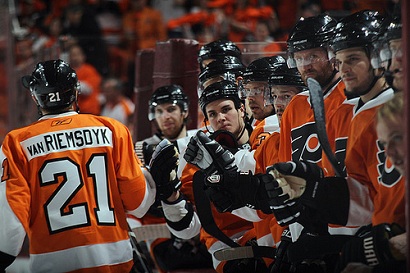 James van Riemsdyk not needing surgery is good news however you look at it. If you want him to stick around in Philly, you're happy to see that he's healthy and will be fully prepared to start training camp. If you don't want him back in Philly, you're happy to see that he's healthy because he is great trade bait. Throughout last season, and now into the offseason, JVR has been mentioned in every Flyers trade rumor. It's clear he hasn't lived up to his #2 overall selection expectations (not even close), but maybe he just can't flourish in a Flyers uniform. Even though many Flyers fans have lost faith in him, other GMs around the league may have not. However you feel about vanRiemsdyk, him being healthy is a positive for the Flyers.
Just as Paul Holmgren found out yesterday that JVR was healthy, he learned that Ryan Suter most likely does not have interest in playing for the Flyers. In a list of potential teams he'd play for, the Flyers were not mentioned. In fact, no Eastern Conference teams were mentioned. That's an unfulfilling feeling for Flyers fans, who would love to see Suter in a Flyers' uniform. He and current teammate Shae Weber are easily the two biggest names on defense this offseason. Only problem with Weber: he's not a free agent. So the Flyers would have to give up way more to trade for Weber, who is going into the final year of his contract, making $7.5 million. Suter, on the other hand, will become an unrestricted free agent come July 1st. His rights will most likely be traded away before then so Nashville can get something in return, but if he shows zero interest in playing for the Flyers, trading for his rights is something Holmgren will probably stay away from. If he makes it to July 1st without being signed, which is doubtful, the Flyers will surely throw everything they have at him, but that's a big 'if'.
This isn't the first time good news and bad news has happened for the Flyers in the same day, and it won't be the last, but learning these things as early as possible makes Holmgren's job a little easier. It's only the beginning of a long summer for him and the Flyers' front office.