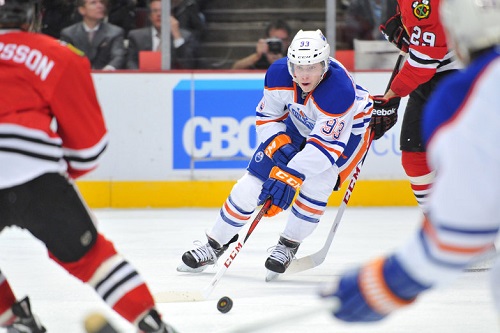 It would be understating things to say that the Edmonton Oilers are desperate to end their seven year drought and finally qualify for the Stanley Cup Playoffs. It's the seven year itch – it's been too long, fans want to have at least a chance at that cup. Oilers fans got a taste of hope in the winning streak last season, but unfortunately the Oilers never managed to maintain the streak and ultimately didn't get a playoff spot.
Ryan Nugent-Hopkins is a critical player for Edmonton. He was the Oilers' number 1 pick in the 2011 NHL Draft, and has since then become a main player in the Hall-Nugent-Hopkins-Eberle lineup. Taylor Hall and Jordan Eberle are incredibly talented forwards, but Nugent-Hopkins' role in the lineup shouldn't be overlooked. Hall and Eberle can definitely move the puck and have a lot of energy on the ice, but it's a huge benefit for both of them when Nugent-Hopkins can feed them the puck from his spot in the center.
Nugent-Hopkins was out for the last five games of the previous season, as he made the decision to undertake his shoulder surgery early in order to have a shot at recovering in time for the 2013-2014 season. Nugent-Hopkins' April surgery repaired a torn labrum in his left shoulder, a spot that has plagued him before in the 2011-2012 season when the same injured shoulder caused him to miss a significant amount of games.
Rehabilitation is an imperative step in recovering from such injuries, and the Oilers' center is in British Columbia making good steps towards a full recovery. His decision to miss the end of the previous season may prove to be a smart one, as the Oilers are anticipating there's a fairly good chance Nugent-Hopkins will be ready by October 1 and will be in the lineup.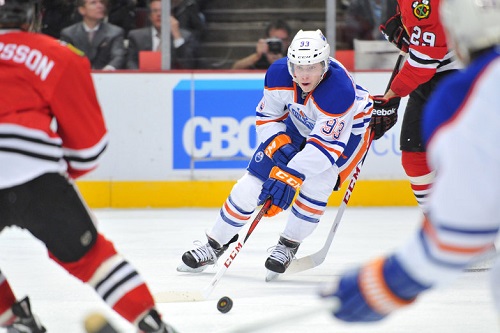 In an interview earlier this summer, Nugent-Hopkins was optimistic about the process, stating that "it's going really well right now. Obviously, the first couple of weeks are pretty slow and you can't move it too much. I think the first part's just trying to get the range of motion back. I'm just trying to strengthen it a little bit now. It feels good. It feels better every day, so we're definitely taking some steps. I want to be ready as soon as possible. We're not going to try to push it too much, but I think things are going pretty well so far. It's looking good right now."
While it's fantastic that the process is going well for him, Oilers general manager Craig MacTavish is treading cautiously. Nugent-Hopkins is a critical player for Edmonton and his absence in a large portion of the season would definitely be difficult for the Oilers to cope with. MacTavish would rather wait and delay Nugent-Hopkins' return than risk putting him back on the ice before he's completely ready. Therefore, there's still no confirmation of whether Nugent-Hopkins will be returning for the season opener. Edmonton radio station CHED 630 AM asked MacTavish about the situation, and he responded that "it's too soon for that [to confirm Nugent-Hopkins' return]" but that "he's doing very, very well."
Fans eagerly await and hope for Nugent-Hopkins' return for the season opener on October 1.