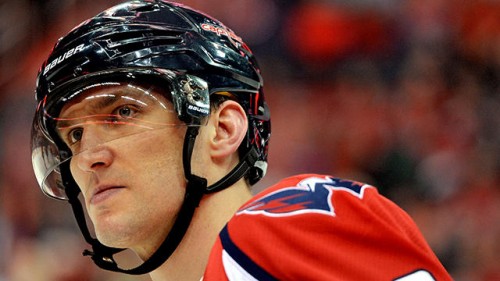 Washington Capitals star captain, Alex Ovechkin, has had his playing style critiqued a lot more than normal this season. Mike Milbury has voiced plenty of his critiques on Ovechkin not getting off the ice to avoid a -, to having the leagues worst +/- combined with the league lead in goal which is something no one has ever done in the NHL. While +/- is a broken stat that is effected by your linemates shooting percentage combine with your goalies save percentage, it is still an indicator of how many even strength goals you are on the ice for. And it's no secret that Alex Ovechkin is on the ice for a lot of even strength goals against.
Although he has only partial control on how many goals go in whether it be for the Capitals or whoever they are playing, he does have control on how well he plays defense. Something that Capitals fans know don't go together, Ovechkin and good defense. But let me clarify this right now, I don't expect him to play such great defense that he would win the Frank J. Selke, as it is almost exclusively a centers award year in and year out. One of the reasons, in my opinion, that Ovechkin wasn't the Captain of Russia in Sochi was because of his defense. Pavel Datsyuk is one of the best defensive AND offensive forwards in the NHL, which is why he was named Captain of that team.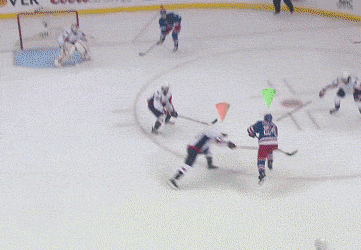 Earlier in the play above, Ovechkin does what he loves to do by skating up the ice hoping for a breakaway the moment the Capitals get control in the defensive zone. Read more about that here on RMNB, also you can read about how Ovechkin quit on a play against Dallas on Puck Daddy here and here
This is perfect, because Bob McKenzie was right. Criticizing Ovechkin's defense was like "finding fault at best you can with somebody". However that was in 2009, when the team took the eventual Stanley Cup winning Penguins to game seven. That Capitals team was a force to reckon with, but this team is just a lion without the claws.
I agree and disagree with a few thing from this video. I agree that 60 goal scorer Ovechkin was the opposite of the "Lazy Russian" player, but the Alex Ovechkin of this team isn't that. That Ovechkin, night in and night out, played with his heart on his sleeve. He cared, he wanted to win, and he wanted to be the best. I obviously don't believe Ovechkin isn't a top 10 player. You just can't think that he is, while leading the league in goals back to back years.
Now this Milbury rant isn't my favorite, but I still agree with some things that he says. The line change on the goal is inexcusable. It is NEVER acceptable to change when the other team is in the your defensive zone, especially when its the long change. Milbury is also right with the blind pass. You just can't blindly throw a pass in the NHL, the league is just too good for that.
But this isn't about his defense, it is about him as a Captain. This is the aspect in which he fails for the Capitals. Ovechkin is like another player who every American likes such as Patrick Kane. Both have big Ego's that came from being great players. There is a reason, however, that Kane is not the captain of that Blackhawks team. Jonathan Toews is the definition of a great leader. He lets his play do the talking for him, he never makes excuses, and he plays every shift like his last.
This is a great post game interview from Toews a few days ago. At the end, Toews believes that the interviewer is trying to make excuses, and Toews doesn't want to make them. He talks about how they they need to play "character hockey" when "the bounces aren't going their way" and he is right.
Here is Ovechkin's post-game from last night. Maybe I'm being nitpicky because Ovechkin makes good points. His powerplay shot needs to hit the net so guys like Brouwer can find the rebound.
I don't expect Ovechkin to be a shutdown defender, nor do I want him to. Ovechkin got paid to score goals, that is what he does and I love it. He is the best Capitals player no if ands or buts. Without his scoring touch, this team is just a glorified Buffalo Sabres team with too many problems to count on both hands. It is just that he isn't the captain that I want or quite possibly that the Capitals need.