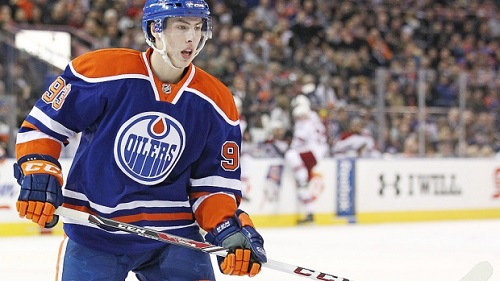 Looks like my favorite Nugget is in Edmonton to stay! The Edmonton Oilers signed center Ryan Nugent-Hopkins to a seven year, $42 million contract. The Oilers' focus on their young players is something that's been discussed a lot in the media, and they've made another move towards strengthening the young talented core of the team with this signing. There are a lot of similarities in this contract with the other young forwards that Nugent-Hopkins shares the ice with. Forward Taylor Hall also signed a $42 million, seven year contract, and though Jordan Eberle's contract was a year shorter, his $6 million cap is identical to Nugent-Hopkins' and Hall's. It's not unreasonable to guess that Nail Yakupov, who has two seasons remaining on his entry-level contract, may receive a similar deal a little down the road.
This additional contract locks in another integral player, and hopefully will give MacTavish a lot more certainty to build the team on. The young forwards are all phenomenal players individually – their status as first round picks, and their invitations to participate at an international level on behalf of their countries, clearly demonstrates this. What the Oilers really needed was a bit of time to let these forwards play together and get accustomed to one another. With all these long-term contracts, the Oilers have ensured that the young players can stay together and hopefully reach their full potential.
Nugent-Hopkins, one of the Oilers' many young first-round draft picks (2011 in his case), is a crucial part of the team at center, and the choice to keep him on the team for the foreseeable future was wise on Edmonton's part.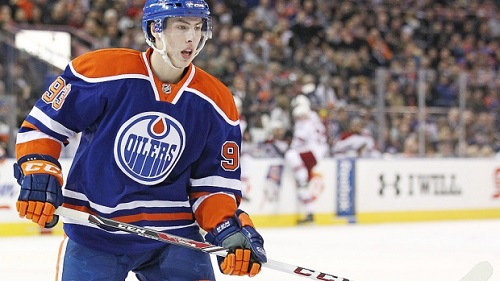 His recent shoulder surgery may be an issue for the first month of the upcoming season. While he's out there skating in informal practices and has given very optimistic interviews, Oilers General Manager Craig MavTavish interviewed that fans might not see Nugent-Hopkins until a little later in the season: "In talking to our medical staff, we've determined that everything is on schedule – but it's important for them that we maintain the pessimistic schedule that we started with, which would be Nov. 1."
The Oilers have this cluster of young, extremely promising forwards. When they really hit their stride, they're nearly unstoppable on the ice, absolutely exploding with energy and playing an incredibly fast-paced game that opponents often cannot keep up with. The young players like Hall, Eberle, and Nugent-Hopkins are adding a few years under their belts and have increasingly more experience playing with one another as a team. Hopefully, this upcoming season is when all the dynamos with the big 7 year contracts can help propel Edmonton to the Cup.