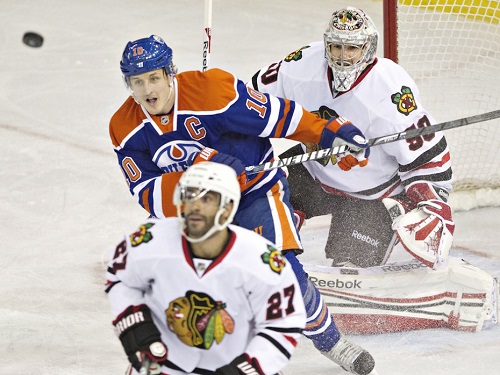 It's been a flurry of trades, but the one that will interest Edmonton Oilers fans centers on captain Shawn Horcoff. Rumors and speculation began yesterday, but it was confirmed this morning that the Oilers have traded Horcoff to the Dallas Stars. Horcoff, who has only ever played for the Oilers in his NHL career, was traded for young defenseman Philip Larsen and a seventh-round draft pick in the 2016 NHL Draft.
Horcoff is an extremely divisive player for Oilers fans. Some acknowledge that, while perhaps he doesn't have the same stats as some of the young players, he is an integral part of the team. He might not score with the same frequency as energetic assistant captain Taylor Hall, who many feel may take over captainship after Horcoff's departure. However, he generally did what a captain should – kept the team together and calm at times when they might be panicking or losing momentum during games. And who can forget Horcoff's triple OT goal against the Sharks in 2006?
Teammate Sam Gagner, in a tweet, says "Tough to see Horc go. I've learned so much from him over the years. Dallas got a great professional and teammate today. #Leader"
Assistant captain Hall stated that "he was a great captain and will be missed by a lot of guys in the room."
While some sing his praises, an equal amount are vehement in their criticism of Horcoff. He had several injuries in the last season, some knocking him out for longer stretches. Additionally, he wasn't extremely prolific, scoring only seven goals and five assists over the season.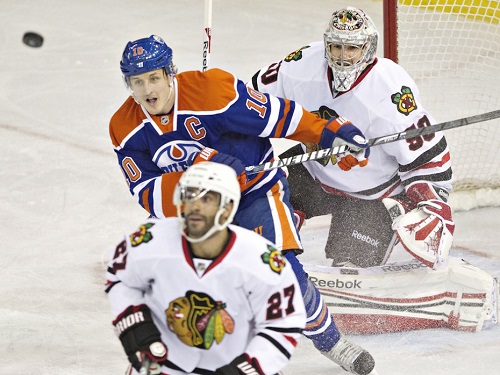 The trade will perhaps quiet some Oilers fans who were outspoken in their Horcoff criticism, and will free up some money. Horcoff's salary was a problem for Edmonton, both for monetary reasons and because many fans didn't believe he'd earned such a salary. Though he was on the last two years of his $33 million contract, with the understanding that his yearly salary would decrease from the one-time peak of $7 million to around $3-4 million in the last years of his contract, it's still an amount that many believe he didn't merit.
In a 2012 interview, Horcoff addressed some of the negativity surrounding his high salary and comparably low performance, stating that "Nobody wants to produce more than I do. I give it 110% every night. I understand there is going to be frustration with some people and fans, but really, at the end of the day, I have to be able to come to the rink, play the best that I can and live with the results."
While many Horcoff-haters are rejoicing today, this trade really isn't just all fun and games. Regardless of how much he was disparaged by fans, Horcoff was a solid center. With him out of the picture, and a new defenseman joining the team, the Oilers retain Ryan Nugent-Hopkins and Sam Gagner as centers. Nugent-Hopkins very recently underwent shoulder surgery, and though he's said to be fine for the start of the season, he may be a little bit off due to missing out on some practice time during his shoulder recovery. Gagner, the other strong center, is a restricted free agent.
The one positive is purely financial. Larsen has only one year left on his deal, and in contrast with Horcoff's $5.5 million cap, has a cap of $1.025 million. While the Oilers still have some work to do, and some points of weakness in their team that they need to address, they'll have a bit more cap space to work with.
In a statement he gave about Horcoff, Stars general manager Jim Nill said that "Shawn is a proven leader in this League and helps solidify our group at centre. He's a hard-working, two-way player that can contribute in all situations and our young players will be able to learn from his work ethic and example."
The Stars have really been hustling for centers, as Horcoff will be joined with ex-Bruins, new-Stars centers Tyler Seguin and Rich Peverley.
In news that received far less attention than Horcoff's trade, the Oilers have also bought Eric Belanger out of his contract.
Hopefully Edmonton will be able to do something significant with the cap space they now have after trading Horcoff.