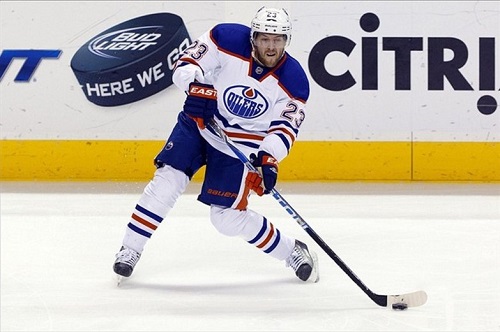 The Edmonton Oilers announced on Thursday evening that they traded winger Linus Omark to the Buffalo Sabres in exchange for a conditional 6th round selection in the 2014 NHL Draft.
The deal was fairly unsurprising – there have been rumors floating around about Omark being traded since about 2 or 3 years ago. He isn't a bad player – while he doesn't have size on his side, he shows an admirable amount of skill. He was briefly with the Oilers in the 2010-2011 season, but the fact is there are a lot of players who play like him. This certainly doesn't negate his talent, but it does make it easier for him to be overlooked and ultimately led him to be pushed down the possible options as other players were selected for ice time ahead of him. He spent last season in Switzerland, and since then has been playing for the Oklahoma City Barons in the AHL.
Omark had previously expressed frustration with his situation – he seems to have had his sights set higher than the AHL level, and CBC's Elliotte Friedman reported that Omark was unhappy with his position in the AHL and had asked Edmonton's Craig MacTavish to be traded.
It seems a fairly reasonable choice for Buffalo, and on the positive sides, it reduces the number of contracts that the Oilers need to juggle by one. Omark's trade frees up the Oilers to add someone else that can perhaps help the team in ways that Omark couldn't. Perhaps time with the Sabres will allow Omark to eventually move out of the AHL and address his frustrations with his situation by giving him an opportunity to play at an NHL rather than AHL level.
While it may be a good trade for the Oilers, their affiliate team the Oklahoma City Barons likely aren't as pleased. Looking at the list of leading scorers for the Barons, Omark leads by an astronomical margin. In the past 29 games, he has scored 29 points. The closest to him are Roman Horak, with 17 points in 29 games, and a slew of individuals with 15 points (Anton Lander, Matthew Ford, Andrew Miller). Apart from the Barons, the trade seems fair for both sides, and hopefully the Oilers will be able to use the draft pick to their advantage and continue their attempts to tweak their team until it's a winning formula.
Love Reading About Hockey?

Subscribe to keep up-to-date with the latest and most interesting hockey news!
| | |
| --- | --- |
| | We hate spam just as much as you |