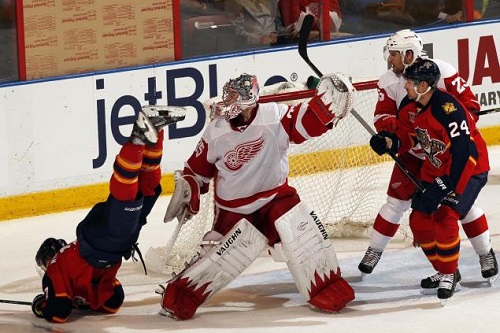 Welcome to Sunrise, Florida. Welcome to the official purgatory of the National Hockey League, a tiny hamlet nestled in a drained corner of the Everglades. Welcome to the home of the Florida Panthers, South Florida's favorite team that the populace never knew existed. Be sure to pick up a complimentary brochure as the SunPass toll network nails you for coin on the way out.
On the heels of a 5-1 beatdown at the hands of the Carolina Hurricanes-better resembling a close encounter with the infamous Latin chancla than a contest of any sort-the Cats officially sit 13 points out of a postseason berth, tied with the Calgary Flames at 51 points through 58 games played. More of a cozy cabana than a hockey hotbed, the tenants of the BB&T Center are well along their way to an early offseason; with a hockey program all but doomed to miss its 12th of the last 13 playoffs and a fan-base that can best be described as lethargic, Dale Tallon and his front-office cohorts find themselves in the unenviable position of an ongoing rebuild.
Veterans typically counted on for production have gone AWOL; Tomas Fleischmann has potted a paltry five goals through 56 games, failing to find the net in his last 22 contests. Scottie Upshall leads the team in scoring, with 27 points off of ten goals through 52. And that's just the offense; surrendering an average of 3.07 goals per game, the aging defensive unit looks more like a ragtag group of shell-shocked privates than a hardy group of grizzled vets. Despite the enhanced play of one Dmitry Kulikov (HE SAID HE AIN'T GOING TO RUSSIA AWWYEAH) and the return of the once solid pairing of Erik Gudbranson and Dylan Olsen from the injured reserve, the core of rearguards-led by captain Ed Jovanovski-hasn't done much to assist goaltender Tim Thomas in preventing the puck from denting the twine. Not free of guilt, however, the forward group as a whole generally fails to aid in backchecking. Couple that with a slip in form for the netminder Thomas, and you have a bonafide s***storm pummeling the defensive zone.
Unlike last season's dismal effort, however, the injury bug cannot be utilized as a scapegoat for poor performance; having lost 159 man games to injury compared to 278 through the 48-game lockout-shortened campaign, AHL call-ups can't be pinned for dropped points.
Thrusted into action, the few young players populating the major league roster-only seven of 21 listed skates are the age of 25 or under-have been looked at for production, namely Nick Bjugstad and Aleksander Barkov. The dynamic duo, centering both the top-six and top-two power play units, have played remarkably well given their relative inexperience; posting a combined 47 points, the young centermen have provided a glimmer of hope for the future.
When that future will come to pass, however, remains shrouded in mystery. In spite of aggregating a positive Corsi For per 60 minutes of 53.9, the club's goals for differential sits at 42.6%. The team's 7.61% conversion rate sits 27th overall in league standings, further exposed by a team total 89.9 save percentage. Historically mediocre, the club remains in shambles. If anything, the Olympic break serves as a time to regroup and recollect. With a league low two representatives (Finland's Barkov and Slovakia's Tomas Kopecky), a bloodied and battered roster ought to welcome some extra R&R. Moreso than the players, however, Dale Tallon ought to utilize the respite to analyze his roster and construct trades accordingly. Figuring to open a fire sale, veterans on expiring contracts appear to be first on the chopping block. And with a meager ten players tendered through next season, sweeping changes could be in order.
All stats courtesy of Extra Skater, Sporting Charts and the Panthers' Official Website.