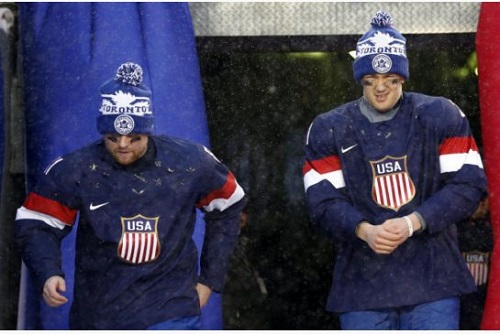 The Toronto Maple Leafs have turned their winning streak into a losing one, after losing their last two games. The 6-game streak ended at the hands of the Dallas Stars this week, with a final score of 7-1, followed by a 5-4 OT loss to the Winnipeg Jets on Saturday.. For those of you who didn't catch the game, it was every bit as painful as it sounds, unless of course you're a Dallas fan.
So, that happened, but it's not as if it's the first time the Leafs have blown it in the 7th game, right? Too soon?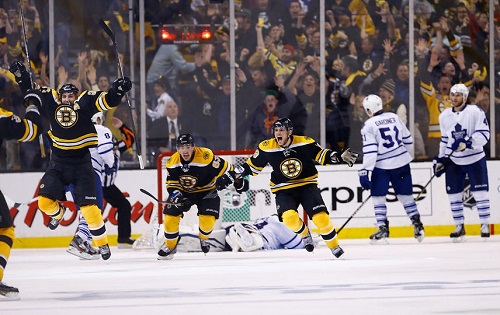 Being a Leafs fan is kind of like being in an on-again-off-again relationship. Some days they play well, and some days you're not sure if you're watching the NHL or a group of Timbits learning to skate for the first time. What does a Leaf fan do when their team is on a losing streak? Naturally, they ignore that and focus on the fact that soon there will be a break from all the madness for some nail-biting hockey at the Sochi Olympics.
With the games just over two weeks away, the NHL will be coming to a pause, and three Toronto players will be leaving their mark in Sochi. Nikolai Kuleman will be representing the Russian men's team, while veteran Phil Kessel and Olympic rookie James Van Riemsdyk will represent team USA.
Kessel and JVR are one of the many pairs of linemates on this year's Olympic hockey rosters, including Pittsburg Penguins captain Sidney Crosby and teammate Chris Kunitz, and Anaheim Ducks Forwards Ryan Getzlaf and Cory Perry for Team Canada, as well as the Sedin twins of the Vancouver Canucks for Team Sweden.
While Hockey Canada has repeatedly denied that Kunitz's spot on the team is not solely based on his chemistry with Crosby, Team USA coach Dan Bylsma openly admitted he liked the Leaf linemates' chemistry, even before announcing the team roster.
"… I also think that playing with Kessel is a big thing for [van Riemdsyk]," Bylsma said. "There's been some chemistry there and some success there that's been something we've watched this year…"
Kessel is the only remaining Maple Leafs player who appeared at the 2010 games in Vancouver, contributing 1 goal and 1 assist to the silver medal winning US Team. JVR represented the U.S. at the world juniors in 07-09 and again in 2011. The main question when it comes to these teammates: will they play on a line together at Sochi?
"James van Riemsdyk happens to play on a line with Phil Kessel, and I would strongly assume that the coaches would try to work them into the situation where they'll be on the same line." said team USA's GM David Polie.
Kulemin will also be making his Olympic debut on the Russian team, representing his country on home ice. The 27-year-old says there is a lot of pressure to perform well under these circumstances.
"Everybody loves hockey so much in Russia. Pretty much same like Canada played home Olympics last time."
Despite the pressure, the Leafs Forward says he is excited to represent his country, and will play any role the team needs him to. Kulemin has 15 points in 42 games played so far this season, and currently sits at a -1. He was a somewhat surprising choice for the roster, which does not include Carolina Hurricanes forward Alexander Semin and Stars defenceman Sergei Gonchar, who were both widely expected to make the team.
Team USA will play their first game against Slovakia, while Russia will challenge Slovenia, both on February 13th. The best part for Leafs fans (and the Leafs themselves)? It means an 18-day period with a lot of hockey and no panic about the team's impending playoff fate. Hopefully the break will give the players and coaching staff some time to recharge and come back swinging for the final stretch of the season.
Love Reading About Hockey?

Subscribe to keep up-to-date with the latest and most interesting hockey news!
| | |
| --- | --- |
| | We hate spam just as much as you |