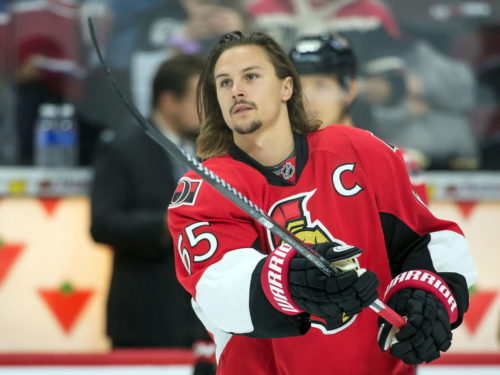 It is but a distant memory now, but the Ottawa Senators' 6-1 drubbing of the Boston Bruins in their season finale was just about the best outcome imaginable for a team that left plenty to be desired this season.
Aside from a stretch of four wins in six games to close out the year – a figure that could have been even higher if not for a 5-3 loss against the Pittsburgh Penguins in a game which the Sens held a 3-0 lead – the Sens limped to a 4-6-3 record through the rest of March. So disappointing was Ottawa's play that owner Eugene Melnyk broke his season-long silence in March to chastise his team.
But despite missing the playoffs in disappointing fashion – this was, after all, a playoff team just one season ago – it wasn't all negative for Ottawa in 2015/16. Aside from the fact they played a large part in ending the Bruins' playoff chances, there were a number of other positives to come out of this season that should give Sens fans reason to be optimistic going forward:
The obvious
Erik Karlsson: Little surprise here as Karlsson was about the only thing that kept fans watching for much of the year. He enjoyed not only his best season to date – an accomplishment in and of itself – but put up some of the best offensive numbers by a defenceman in the last two decades: 16 goals and a league-best 66 assists for a whopping 82 points, playing his way to a potential third Norris Trophy. Aside from being an offensive dynamo, Karlsson showed how much of a threat he can be in his own zone, averaging roughly one hit and two blocks per game respectively, while reducing his giveaway total for the third consecutive season and finishing second among all defencemen in takeaways. Oh, and he did it all while leading the league in ice time playing nearly 29 minutes per game.
Mark Stone: Not to be outdone by his Norris-worthy teammate, Stone thrust himself into some trophy conversation of his own, leading the league with 128 takeaways to put himself in the mix for the Selke. That he finished with 51 more than the next closest competitor – the largest difference between first and second since Pavel Datsyuk finished 58 ahead of Mike Modano in 2007/08 – makes his feat all the more impressive. Offensively, Stone reached the 20-goal and 60-point plateaus for the second time in as many seasons, and was on pace to surpass his point total from 2014/15 before his season was abruptly ended after getting steamrolled by Dustin Byfuglien. He also became more of a threat on special teams, upping both his powerplay and shorthanded point production.
Not-so-obvious
Mika Zibanejad: With the bar set low from his previous four campaigns, Zibanejad enjoyed his best season to date in 2015/16. He posted career-highs in goals (21), assists (30) and points (51), increasing his production in each category for the fourth consecutive season, and potted the first seven game-winning-goals of his career (and he still has plenty of room for improvement). He also saw his ice time increase for the fourth year in a row, averaging just under 18 minutes bouncing between first- and second-line duties, while also winning greater than 50 per cent of his faceoffs for the first time ever. Perhaps most encouraging of all: Zibanejad will be only 23 years old at the start of 2016/17 with 281 regular season games already under his belt.
Jean-Gabriel Pageau: Flying under the radar for most of the season was Ottawa's little ball of energy who had himself a career year. He scored 19 goals and finished with 43 points, but more important to the Sens was his play on the penalty kill where he cemented himself as one of the best in the game, posting nine shorthanded points, including a league-best seven goals while down a man. His good play, and good fortune – a rash of injuries opened the door for him to play a bigger role with the team – allowed Pageau to play just over 16:30 per game. That was time he used to centre, for the second year in a row, Ottawa's most potent line down the stretch – this year playing alongside Stone and Zack Smith; last season with Curtis Lazar and Erik Condra.
There are, of course, some areas of concern for the Sens – not the least of which being their horrendous play in the defensive zone – but the team isn't lacking in positives either. With big changes already made off the ice, and more to come on the ice this summer, there is reason to feel optimistic heading in to the 2016/17 season.