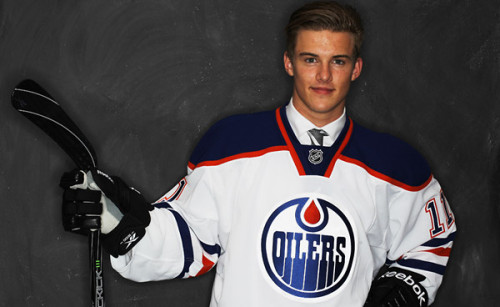 If the title threw you off a bit, I'm sorry, this will not be an article about potential Oscar winners this coming year. Instead, it will be about the most popular Oscar in the city of Edmonton, Oiler prospect Oscar Klefbom.
Klefbom was drafted by Edmonton in the 1st round in 2011, 19th overall. He played in Sweden, battling injuries in a major way, until last summer when he arrived in North America.
Klefbom started off in Oklahoma City, but struggled in the first portion of the season. Once he hit his stride however, shaking off the rust from nearly a year off and getting adapted to the North American game, he became a star. Barons coach Todd Nelson started throwing him out in every situation and feeding him ice time, and he responded with solid and consistent play.
He was rewarded with an NHL call-up following the exodus of Oiler players following the deadline, and saw a steady does of NHL ice time. While his time wasn't over the top, and he was sheltered to a degree opponents wise, he had some tough zone starts and was used in a challenging way by the Oilers.
Klefbom struggled big time in his first few shifts against Minnesota in his first game, but he quickly rebounded and turned into a solid defender for Edmonton.
Should we expect to see Klefbom this October in Edmonton? It's not looking likely. Why? Well, let's look, and while we are at it, let's look at the pros of him being on the roster this coming season.
Why He Will Be Oklahoma Bound:
Let's start with the obvious here. The Oilers have six NHL defenders on one-way deals ahead of Klefbom, and a seventh defender who already has a solid half-season under his belt. The team set up roadblocks for their young prospects, and Klefbom is one of those guys.
The Oil brought in Mark Fayne, Nikita Nikitin and Keith Aulie to join Justin Schultz, Andrew Ference, Jeff Petry and Martin Marincin. There just is not enough room for Klefbom to get into the lineup each and every night.
While Klefbom did look good in his call-up late last year, it's important to note that he did it playing under 20 minutes a game and against lighter competition. Now to be fair, he did have some tough zone starts and did play a little special teams, but his good performance was a tad bit sheltered. There is no problem with that, young defenders should be sheltered, but he wasn't good enough where he HAS to be on the roster.
There are areas of his game that need some work too. Klefbom can be a physical presence out there, but he didn't bring that too much at the NHL level. His puck-moving skills aren't bad, but could certainly be improved upon, and of course his decision making showed signs of being a rookie from time to time. This is all natural, and should disappear with development.
Playing in OKC would allow Klefbom to play big minutes too. He'd likely be the number one guy on the Barons' roster. He played over 20 minutes a night towards the end of his stint there last year, and was playing in all situations against the top guys at that level. A little bit more of that will only help the young Swede.
The chance to improve his game while playing huge minutes has big time appeal. Add to that the roadblocks in Edmonton and it's easy to see why Oscar will likely be OKC bound.
Well What About Edmonton?:
Here's the catch, Klefbom DOES have a chance to make this team, but he's going to have to impress big time. Martin Marincin can freely go to the AHL just like Klefbom can, and he's one of the seven defenders currently slotted on the NHL roster. He and Klefbom, both left-side defenders, likely will fight for the one job between young guys on the roster.
Marincin, who played about half a season with Edmonton and showed unreal stuff while playing tough competition with Jeff Petry, has the inside track for the job, but Klefbom, who MacTavish loves, isn't that far behind in management's mind.
IF, and that's a big if, Klefbom outperforms Marincin in camp, it's possible Edmonton sends the big Slovak down in favor of Klefbom, although I have a hard time seeing it.
A camp where Klefbom shows some physicality, better puck-moving ability and smart shut-down play could force him onto the NHL club, although he'll need to shine in almost every pre-season game to get there. The good news for Oscar? He has the ability to do this, it's just a matter of showing it.
The pros here are quite obvious. It moves another potential cornerstone player up to the NHL level, and makes Edmonton's defense better if Klefbom can play to his potential. It also fast-tracks the development of a player that was labelled as a key part of the rebuild, and it gives the Oilers another trade chip from what would be a surplus of defenders.
The Odds:
It isn't great in my mind. I'd give Klefbom about a 35% chance of making the roster on opening night. The odds he plays in the NHL at some point this season? 100%, but he isn't making the team out of camp in my mind. The Oilers created a roadblock this off-season with their additions, and they are determined to develop their players at the AHL and junior level, not rushing them.
It's a wise strategy, and while Klefbom may well be ready, it's a safer bet to hold him in the AHL and little longer and allow him to develop. This kid is going to be a key part of the Oil moving forward, it just won't be on October 9th against Calgary.