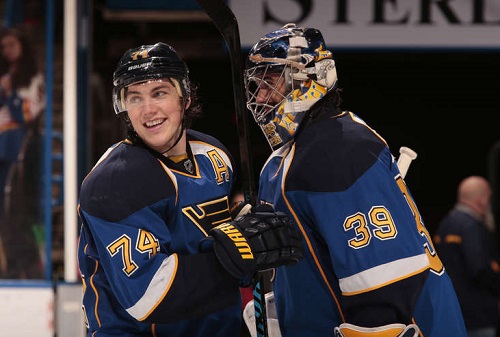 Despite a few recent losses, the Blues are still a top contender for the Stanley Cup, second only to the Boston Bruins in points, with 107 to the Bruins 110 points.
St. Louis as a team may be having a difficult time getting consistent wins, but #74 T.J. Oshie's efforts for his team awarded him the Third Star of the Week for the NHL.
Oshie is tied for second place in the NHL with six points in three games. He continues to push his personal limits, helping the Blues maintain their lead in the Western Conference. The Washington native also snagged his first career hat trick against the Minnesota Wild on March 27th, which included the game winning goal.
The right winger has also set career highs for himself in almost every offensive category for the 2013-2014 season. This includes 21 goals, 39 assists, 60 points and 5 game-winning goals. Oshie's determination to keep the Blues on top despite his new daddy duties is evident.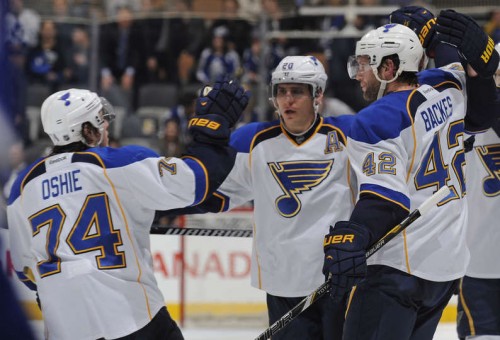 Not to be left out of the spotlight, team captain #42 David Backes also managed to score a hat trick in the game against the Toronto Maple Leafs on March 25th. T.J. further earned his star-power by assisting two of Backes' goals and scoring one of his own to help with the 5-3 victory.
The Blues are feeling the loss of skilled forward, Vladimir Tarasenko, for the remainder of the regulation games but Oshie and his fellow teammates are working hard to fill that void. If St. Louis can continue to put pressure on their opponents and possibly throw in a few more hat tricks, there is no reason to doubt a long playoff run.