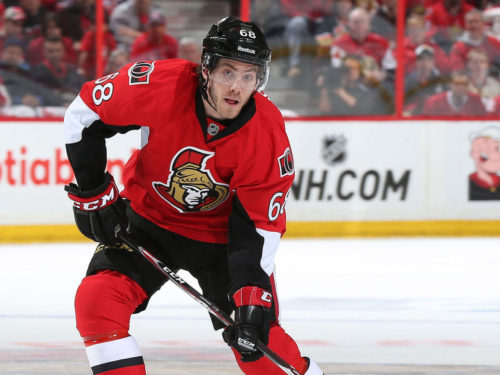 Ahead of their August arbitration hearing, the Ottawa Senators and Mike Hoffman have come to terms on a contract that will keep the 26-year-old in Ottawa until 2020.
The two sides agreed on Wednesday to a four-year deal that will pay Hoffman $20.75 million – $3.8 million in his first season, followed by $5.65 million in the final three years with a modified no trade clause – for an AAV just under $5.2 million. The deal is a significant bump up in pay from his previous $2 million deal, reflecting his importance to the team's offensive well-being.
Hoffman led the Sens with 29 goals last season – a number that could have reached as high as 40 if each of his 11 shots that found the post or crossbar took a lucky bounce – and tied for 29th overall in the NHL. In the midst of the World Cup hype, Hoffman's production was enough to earn him some dark horse consideration for a sport on Team Canada.
That consideration quickly faded once the calendar flipped, as he suffered through a cold spell – an issue that has plagued him in the past – but drought or no drought the fact remains he is an elite goal scorer. His contract, as such, was also an incredible bargain when you compare his pay to those of players with similar goal production in 2015/16.
His raw salary was less than such 30-goal scorers as Matt Duchene ($6 million), Max Pacioretty ($4 million) and Adam Henrique ($4 million), as well as 28-goal scorers Jonathan Toews ($13.8 million) and Daniel Sedin ($7 million). Meanwhile, two comparable players in Kyle Palmieri and Aleksander Barkov recently inked deals similar to Hoffman's ($4.65 and $5.9 AAV respectively).
That the Sens are committing over $20 million to Hoffman is acknowledgement of his existing talent and a testament to the belief that he can do even more. After all, as mentioned, Hoffman has gone cold twice in two years during the home stretch – a fact that nearly cost Ottawa a playoff spot in 2014/15 – yet he has still managed 56 goals the last two seasons.
In opting not to settle for the security of a short-term arbitration deal, the Sens are showing they believe in their goal scorer's ability to be more consistent over the course of 82 games. And if they're serious about being playoff contenders, they'll need him to be.
*Salary information courtesy of capfriendly.com