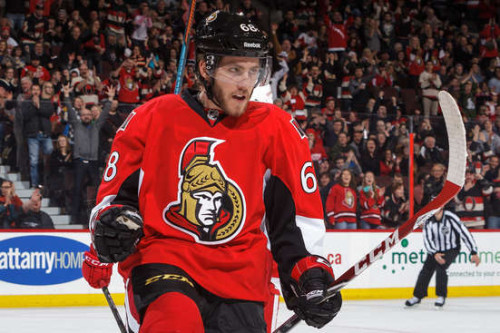 How much do the Ottawa Senators value Mike Hoffman's contribution to their success?
That's a question that, thanks to his outstanding performance in 2015/16 and his impending free agency, will be repeatedly asked of Sens management over the coming months. A third of the way through the season, Hoffman has silenced those who were critical of his play during the latter stages of 2014/15, when he was noticeably absent during the team's historic stretch run.
Through 27 games Hoffman has scored 17 times – four clear of Kyle Turris for the team lead and tied for 4th in the NHL with Tyler Seguin, behind such elite scorers as Vladimir Tarasenko, Patrick Kane and Jamie Benn. In the overall scoring race Hoffman has been just as impressive, putting up 30 points to sit 12th (four shy of his teammate Erik Karlsson for the team lead).
Despite some bad luck – he has found iron a league-high six times with his shots (tied with Oliver Ekman-Larsson and Justin Faulk) – Hoffman remains on pace to shatter his numbers from last season. Largely aided by a ridiculous 19.8 shooting percentage (second behind Benn among players with at least 80 shots), Hoffman is on a 49-goal, 87-point clip.
Included among the aforementioned figures are Hoffman's team leading totals in powerplay goals (four) and game-winning-goals (three) – the latter of which puts him two behind the league leaders. But for as noticeable as Hoffman's impact on the score sheet is, what is less so to the naked eye is the impact he has on his teammates.
His relative HSCF% (a figure that expresses, as a percentage, the quantity of a given team's high danger scoring chances for when a player is on the ice relative to all of the high danger scoring chances that occur for that team) is among the best on the team at 14.30 per cent. In simpler terms: The Sens are better positioned to score when Hoffman is on the ice than when he is not.
Using the more conventional Corsi for percentage, Hoffman's 49.26 rating at five-on-five is well above average for the team, especially since Ottawa is a terrible possession team, ranking near the bottom in team CF per cent). Suffice it to say, Hoffman is an asset the Sens can ill afford to lose to free agency – a fate that seems destined to occur for two reasons.
No matter what role the Sens can promise Hoffman for the duration of any contract he signs with them, it may not matter if the team can't fork out the likely significant money it will take to keep him in Ottawa. The Sens have a well-founded reputation for being a budget team that spends big only in rare circumstances – a fact that has not been lost on free agents in the past.
Beyond their self-imposed budgetary constraints, anything General Manager Bryan Murray and his staff say to Hoffman at this point may just be white noise after the team low-balled him with a $1.7 million offer in arbitration this past summer. There remains the very likely possibility Hoffman will harbour some ill will toward the Sens for a perceived lack of faith vested in him.
But the role of pure goal scorer is one that, for much of the last decade, has gone unfilled in Ottawa – last occupied by Dany Heatley during his four years with the team. If keeping Hoffman around long-term means spending upwards of $5 million (the going rate, it seems, for players of similar calibre), Eugene Melnyk may have to empty his pocket book.
Love Reading About Hockey?

Subscribe to keep up-to-date with the latest and most interesting hockey news!
| | |
| --- | --- |
| | We hate spam just as much as you |