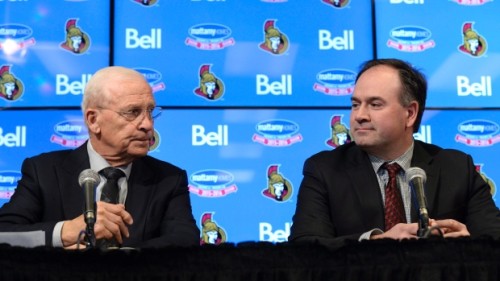 It's the end of an era in Ottawa – in more ways than one. With their season over for all of two days, the Senators have wasted little time making noise (and headlines), starting with changes to their front office.
Wanting to spend more time with his family as he continues his battle with Stage 4 colon cancer, 73-year-old Bryan Murray resigned as Ottawa's general manager April 10th and moved into a senior advisory role. Pierre Dorion was subsequently promoted from assistant GM, a role in which he served for the last three seasons, to the man now in charge of calling the shots.
In his 12 seasons with the club – the latter nine of which spent as GM – Murray is perhaps best known for taking the 2006/07 team to the Stanley Cup finals, which they eventually lost to an Anaheim Ducks team whose creation Murray played a critical role in, having spent two seasons as GM of the then-Mighty Ducks (drafting Ryan Getzlaf and Corey Perry, among others).
Murray was no stranger to Success in Ottawa's front office, either, orchestrating many significant moves. Perhaps one of his best – or, at the very least, unlikely – success stories was his handling of the Dany Heatley situation, in which he flipped the disgruntled winger to the San Jose Sharks for a package that included Milan Michalek who spent seven seasons in Ottawa.
As far as the team is concerned, Dorion takes over for Murray at a time when some big changes are expected to atone for the disappointment of missing the playoffs for the second time in three years. Owner Eugene Melnyk made his frustrations known when he went on a tirade to local media last month, touching on a range of topics – not the least of which being the coaching staff.
Melnyk made no attempt to hide his displeasure with the performance of Dave Cameron and his staff, even using the word "stupidity" to describe their decision-making in such situation as when they gave rookie goalie Matt O'Connor the start in the team's home opener. So it should come as no surprise that it was the bench Dorion honed in on in one of his first moves as GM.
He immediately gave the Sens bench a new look and a fresh start, firing Cameron, as well as assistants André Tourigny and Rick Wamsley (who was the team's goalie coach). Dorion also relieved assistant coach Jason Smith, but offered him another role within the organization (although his new role remains unknown at this time).
The firing marks the sixth time since 2007 that Ottawa has changed its head coach, having cycled through such other names as Murray, John Paddock, Craig Hartsburg, Cory Clouston, and Paul MacLean (the longest-serving of the group). Although it's counterintuitive to have such constant turnover, it's clear Dorion wants his team to head in a different direction long-term.
Despite his admission that it's easier to fire a coach than it is to fire an entire roster, don't be surprised to see Dorion take aim at the on-ice personnel next.