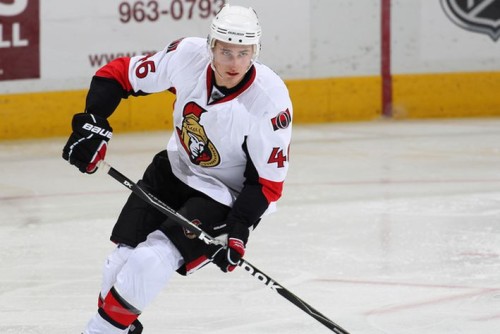 Anyone who has watched an Ottawa Senators game this season knows the Sens don't play much defence. It should come as no surprise, then, that Dave Cameron and his staff have struggled to find a combination of six defencemen who can help the team win with any kind of consistency. That's mostly to do with the five players who aren't named Erik Karlsson and Marc Methot.
Finding the right combination has been difficult to say the least because what one player offers, another (likely more than one) may not. So the coaching staff has been forced to pick the least objectionable option when choosing who to ice and who to sit.
Here's a breakdown of how Ottawa's defencemen, excluding Methot and Karlsson, have performed this season. (For the purpose of this article, their stats have been excluded when ranking the performance of the other five d-men.)
Patrick Wiercioch
Good: Wiercioch has the best five-on-five CF percentage of any of Ottawa's blueliners at 48.26 and has been rewarded with 17:45 of TOI/G. His quality of competition (QoC) rating of -0.006, which sits middle of the pack, also indicates he faces weaker players more often than not.
Bad: He has only 0.32 points per 60 minutes (P/60) despite getting favourable matchups. Wiercioch has also been carless and ineffective defensively – averaging an underwhelming one hit and blocked shot per game with a minus-17 turnover differential – making him a healthy scratch four times.
In sum: If Ottawa's only concern is possessing the puck Wiercioch is the clear choice, but there is more to the game than possessing the puck and he doesn't suit those needs.
Cody Ceci
Good: He has taken advantage of poor teammate performance to lead in points (eight) and P/60 (0.79). He has also contributed 60 blocked shots to give him a team-best 1.8 blocks per game and has a minus-10 turnover differential that also looks good when compared to his teammates.
Bad: Ceci has the worst five-on-five CF percentage (41.77), the highest QoC rating (0.024) and his -0.170 quality of teammate (QoT) rating is last. To add to the negatives, even the undersized Chris Wideman has thrown more hits than the 23 Ceci has registered.
In sum: Ceci is an asset in the offensive zone and sacrifices the body in the defensive zone, but more often than not he and his linemates are chasing the puck.
Photo link: http://www.silversevensens.com/2015/6/29/8861143/senators-re-sign-chris-wideman
Caption: Ottawa Senators defenceman Chris Wideman attempts to fight off Montreal Canadiens forward Max Pacioretty while moving the puck up ice. Wideman is impressing in his first season in the NHL.
Credit: (Eric Bolte/USA TODAY Sports)
Chris Wideman
Good: Since becoming a regular in the lineup he has posted a 46.21 CF percentage at five-on-five (second best). Wideman has also taken advantage of favourable matchups (his QoC is -0.024) to put up a 0.71 P/60, which trails only Ceci.
Bad: Even though he has brought a lot to the Sens lineup, Wideman hasn't been rewarded with ice time, which could actually be a blessing in disguise. Wideman has accumulated a minus-14 turnover differential with a nonexistent physical game and very few blocked shots – all while averaging just 14:28 TOI/G.
In sum: Similar to Ceci, Wideman is valuable in the offensive zone. Where Wideman differs from his teammate is he is basically a non-factor in every other aspect of the game.
Mark Borowiecki
Good: He has a -0.022 QoC, 177 hits and 61 blocked shots – each of which leads its respective category. He has also turned the puck over just 12 times, helping him to a team-best minus-nine turnover differential.
Bad: He has a less-than-stellar 42.66 CF percentage at five-on-five (not great, but still better than some of his teammates) and his QoT rating of -0.024 is tops, but he hasn't used the latter to his advantage. Not known for his offence, Borowiecki's 0.1 P/60 ranks last, while his 1.3 penalties taken per 60 minutes are the most.
In sum: He's useful if you need a big hit or a fight to set the tone, but is otherwise unproductive and, at times, a great liability.
Jared Cowen
Good: The bulky d-man is second behind Borowiecki in both hits (94) and blocked shots (46), which is about the only true positive. His QoC of 0.009 indicates the coaching staff trusts him to shut down the opposition's top players, but actually does more damage than anything.
Bad: Despite seemingly having the confidence of the coaching staff, Cowen hasn't backed that up with his play. He has the second lowest CF percentage at five-on-five (41.90), the second lowest P/60 (0.32) and averages roughly a turnover a game, contributing to his horrendous minus-26 turnover differential.
In sum: Right now, Cowen's only positive contribution is on the physical side, which is a role already well-served by Borowiecki.
As explained above, the Sens have a not-so-coveted mix of underachievers and flat out poor performers on defence. Having been in the market for a shutdown defenceman for much of this season, the Sens would be wise to act on that need sooner rather than later – not the least because they're in the thick of the playoff race.
*Stats courtesy of behindthenet.ca, war-on-ice.com and NHL.com, and include only those players who have a minimum 100 minutes or 20 games played (where applicable)