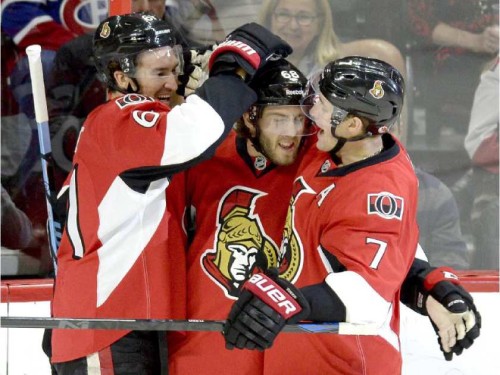 A coach's challenge, a shootout and an uncharacteristic offensive outburst. The Sens have managed three wins thus far and each would have been hard to come by without the occurrence of any of these three.
Thanks to the watchful eye of new assistant coach André Tourigny, the Sens escaped their season-opener against the Buffalo Sabres with a win after it was deemed Buffalo's second goal – which would have knotted the game at two apiece – was the result of an offside. For a Sens team that was beginning to show some fatigue, the call likely preserved a win.
Just two days later the Sens faced off against their provincial rivals, the Toronto Maple Leafs, in the season's first installment of the Battle of Ontario. The Sens put up four goals – enough to win on most nights – but some poorly timed miscues (bad line changes, defensive zone turnovers, lazy penalties) cost the Sens, forcing them to use the shootout to get a 5-4 win.
Then, after a less-than-inspiring 3-1 loss in their home-opener against the Montreal Canadiens, they headed to Ohio looking for a rebound game against the Columbus Blue Jackets. And rebound they did as the Sens received goals from seven different players, putting behind what was a first period to forget en route to a 7-3 win.
Suffice it to say, the Sens are very much lucky to even have a record above .500 early in the season, sitting at 3-2-1through six games.
Craig Anderson can receive most of the credit for that record, keeping his team competitive in games they seemingly have no business being in. The Sens give up a league-worst average of 34 shots per game and some of his best (and busiest) performances have come in Sens victories. He wasn't tested much against Buffalo, but faced 41 shots against each of Toronto and Columbus.
It was a far different story against the Nashville Predators, however, when the Sens surrendered only 25 shots while firing 41 at Carter Hutton. Despite limiting Nashville's scoring chances the Sens fell victim to what has been an all-too-common problem this season: a lack of discipline. The Predators were gifted six power play chances by the Sens, two of which they converted on.
Penalty trouble has killed the Senators throughout this young season and it's not hard to see why. The 27 times they've been shorthanded are second worst in the league (behind only the St. Louis Blues), but would be slightly more palatable if not for their 81.5 penalty kill percentage that ranks them 19th in the league.
One of the only bright spots for Ottawa, aside from the strong goaltending, has been the team's ability to score. The line of Mike Hoffman, Kyle Turris and Mark Stone has enjoyed instant chemistry (combining for 23 points) and Erik Karlsson (eight points) looks to be in mid-season form coming off his second Norris Trophy win in four seasons.
Secondary scoring is still somewhat of an issue – the rest of the forwards have combined for just 15 points – but the Sens have lacked a truly threatening top three since the "pizza line" days of Dany Heatley, Jason Spezza and Daniel Alfredsson. Having a line that can shoulder the load offensively should be a welcome site, especially if it makes them one of the top scoring teams.
But there's no questioning the fact the Sens will need to cut down on penalties and get some help from other forwards such as Mika Zibanejad and Bobby Ryan if they hope to remain competitive in the Atlantic Division in the long-run.