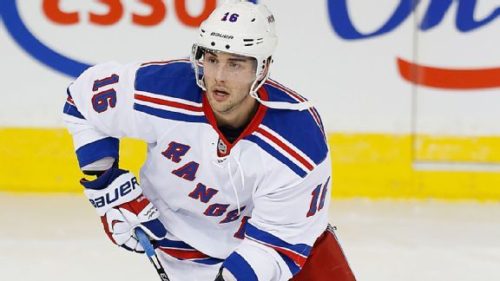 Just as he seemed to be gaining confidence and developing into the Ottawa Senators' number two centre, Mika Zibanejad is on his way out of town.
The Sens made a surprising move Monday, trading the former sixth overall pick in the 2011 draft to the New York Rangers for the more experienced Derrick Brassard. The 28-year-old, a native of nearby Gatineau, has spent parts of 10 seasons in the NHL with the Rangers and the Columbus Blue Jackets (who also drafted Brassard sixth overall in 2006).
Zibanejad has been with the Sens for five seasons, debuting as an 18-year-old and sticking with the big club for the remainder of his time in the organization. In those five seasons he amassed 151 points in 281 games, with his best season being his last in Ottawa when he put up 51 points in 81 games.
But as great as he could be at times – flashing the brilliance that originally endeared him to Sens brass – consistency was his undoing. There were many long stretches in which he would go pointless and seem to disappear on the ice, but would put up a multi-point game at just the right time to quiet the dissenters and prolong his stay in Ottawa.
But Pierre Dorion apparently had enough of this pattern, deciding to go all-in for one of his first big moves as general manager, shipping the 23-year-old out of town. While the move was a shocker considering there was no indication the Sens were looking to move Zibanejad, the trade is definitely not without merit.
Icing upwards of six centremen at times last season – Zibanejad, Kyle Turris, Jean-Gabriel Pageau, Curtis Lazar, Zack Smith and Scott Gomez – the Sens weren't short on pivots, but the latter two were the only lefties. Even then, Smith was moved to and thrived on the wing part-way through the season, and Gomez was a free agent at year's end.
The Sens already added a left-handed centre earlier this summer when they signed Chris Kelly, but the acquisition of Brassard gives them more options down the middle. The Sens also get a player who can seamlessly transition into the team's top-six, potentially even the top-three should the Sens wish to move Turris to the second line, a role in which he appears more comfortable.
If the move works as Dorion no doubt hopes it will and leads to more playoff berths, Brassard's impact could be even greater: he has a career 0.75 P/GP mark in 59 playoff games, including 16 points in 19 games two post-seasons ago. The 2017 playoffs are still a long way away, but the addition of Brassard is a sign the Sens are serious about getting back to the big dance sooner rather than later.