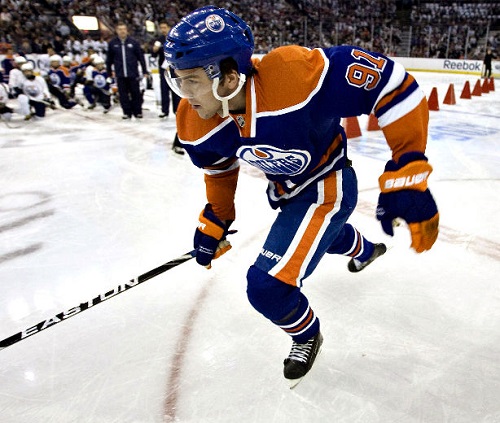 The Edmonton Oilers announced yesterday that they would be trading Magnus Paajarvi and a 2014 second round draft pick for St. Louis Blues forward David Perron.
Paajarvi, a restricted free agent as of this summer, is four years away from unrestricted free agency. He had a phenomenal rookie year which he couldn't quite live up to in the following two seasons. Additionally, he's spent a fair bit of time with the Oklahoma City Barons, often being cycled between the Oilers and the Barons.
Paajarvi was, understandably, a bit stunned at the trade. He interviewed that "I'm very surprised. I know it's business, but it came as a shock. I'm a little bit overwhelmed. All I can say is I had a great time and I can speak good of Edmonton, and coming to St. Louis, it's a new chapter. I'm actually excited to come to a contending team right away. I haven't been in the playoffs yet in three years, so hopefully I can contribute to the team and do what I need to do. "
"Hated to get rid of him," said Oilers General Manager Craig MacTavish. "Hard guy to part with, such a good guy, really fit in well with the culture of the group and the work ethic. He is very much still developing. He's going to be a good player."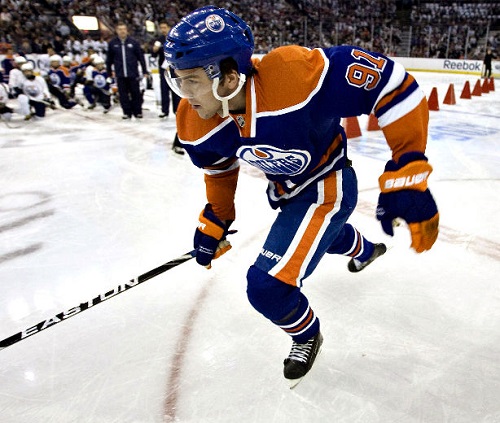 Perron has three years left on a contract signed with a cap hit of about $3.8 million a season. While the Blues stated that freeing up cap space wasn't the sole reason they traded Perron, getting rid of him certainly opens up their cap, similar to what the Oilers did recently when they traded Shawn Horcoff to Dallas .
Due to post-concussion syndrome, Perron was out for a staggering 96 games between 2010-2012. However, since returning he's been doing great for St. Louis. He'll likely be expecting a comparable amount of ice time in Edmonton, but there's a very good chance he will end up on one of the first two lines. He fills out the top six pretty well, both because of his playing style, his relatively reasonable cap, and the fact that he tends to play on the left wing (beneficial as the Oilers have generally been slightly stronger on their right side offense). He will join Taylor Hall, Jordan Eberle, Sam Gagner, Ryan Nugent-Hopkins and Nail Yakupov in what will (hopefully!) be an unstoppable offensive line next season.
While Paajarvi is a strong player, he's still developing and really settling into his style of play, as is evident in the difference between his rookie season and the following seasons. He has the potential to be great, but the Oilers, who are looking to finally get to the playoffs, are looking for sure things. Perron, though only three years older than Paajarvi, is nonetheless more experienced and was a good pick for the Oilers. Paajarvi is a potential star forward; Perron is a solid, consistent forward who can be relied on to score.
Oilers general manager Craig MacTavish gave a radio interview with Edmonton station AM-630 where he spoke about Perron."He's a guy who has a skill set that'll be better suited to playing the game the way that we want to play the game. There's going to be more attack opportunities, more rush opportunities. "
MacTavish also spoke with the Oilers website about Edmonton's style of offensive play in particular, stating that "we're a team that really is pretty far down the path of playing a more skill, puck-possession game, a team that has to rely on quickness more so than bulk. We're a team that's got to play quick."
The Oilers have been making a lot of good, smart trades that will hopefully pay off in the upcoming season.