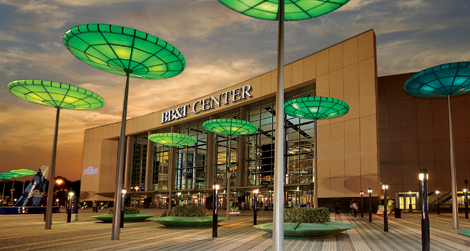 The Florida Panthers, as well as parent company Sunrise Sports & Entertainment and the NHL, officially announced the club's hosting of the 2015 NHL Draft earlier this morning. Slated to take place at the friendly confines of the BB&T Center over the course of two days (June 26-27), the draft will see an approximated 15,000 fans and 500 media personnel, per the Panthers official release.
Supreme Leader of Sport Gary Bettman chimed in on the selection, remarking "The Draft is where the future of the NHL begins to take shape, and the BB&T Center is an ideal setting in which to enjoy the excitement as we welcome our next generation of stars. Vinnie Viola, Doug Cifu, Michael Yormark, the Panthers' fans and the South Florida community will be outstanding hosts to our Clubs, our media and our incoming class of 2015 draftees."
That incoming class, highlighted by wunderkind Connor McDavid, will be the first to wade into the murky waters of professional hockey from the scenic Everglades since Ilya Kovalchuk (HA) and friends waited to hear their names back in 2001. That 2001 draft, highlighted by the selection of Stephen Weiss fourth overall, didn't quite go the Cats' way; in spite of having five picks through the first three rounds and twelve selections total, only four players would lace up their skates and play for the Panthers. We apparently also drafted a player named Taro. Taro Baap. Either Wikipedia is trolling hard, or the all of the interwebs appear hellbent on denying that Mr. Baap ever existed.
At any rate, assuming my imaginary line of funds stays steady, I've GOT to snag me some tickets. It'd be the perfect complement to whatever other events I decide to attend *coughcoughBONETHUGS-N-HARMONYcough* until that point.