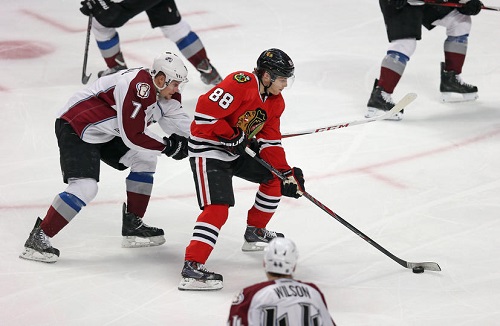 If you ever get the chance to watch Patrick Kane play in person – Blackhawks fan or not – I highly suggest you take it. There's nothing quite like the electricity in the air every time Kane touches the puck. Everyone in the arena knows he's going to do something special, because that's just what Patrick Kane does.
As special a player as Kane has been since entering the league, though, he is playing at another level this season. Despite the Blackhawks losing in the shootout to the Blues Saturday night, Kane extended his point streak to a career-best 14, and has points in 26 of his last 27 games. He currently sits at 2nd in NHL scoring with 53 points (23G, 30A), behind only Sidney Crosby. An American has never won the NHL scoring title, but the way Kane is playing the game this year is giving him a good shot at doing exactly that. Not only does he lead all American-born players in scoring, he has a 16 point lead on the next American-born player in the standings.
"(Kane) is kind of the prototype player from 1995, and he's playing (now)," Jaromir Jagr said before the Blackhawks' game against the Devils right before the Christmas break. Jagr also noted that Kane is one of his favorite players to watch in the league. "He slows the game down and that's the way we used to love it. That's why he can dominate the league because he plays a different style. He slows everything down but he has the first two steps so nobody can take the puck from him even though he's not a big guy. His intelligence is far ahead of a lot of guys, (and) he knows how to use the strength he has to his advantage. Not many guys can do that."
The fancy things Kane can do eventually stop being surprising and just turn into Patrick Kane doing yet another Patrick Kane thing, but this year it's the little things he's doing that are impressive. He's going hard to the net to score greasy goals instead of just scoring the pretty ones he's known for. He's playing better, and more confident, away from the puck. He's back-checking, and protecting the puck better. His already stellar hockey sense has improved.
"He's been good," coach Joel Quenneville said. "He's a confident kid, but his patience level with the puck and his play recognition is as high as we've seen it."
Though Sidney Crosby remains the frontrunner for both, Kane has played himself into contention for the Art Ross and Hart trophies. The trick will be seeing if he can sustain this level of play. I, for one, look forward to finding out.
Love Reading About Hockey?

Subscribe to keep up-to-date with the latest and most interesting hockey news!
| | |
| --- | --- |
| | We hate spam just as much as you |