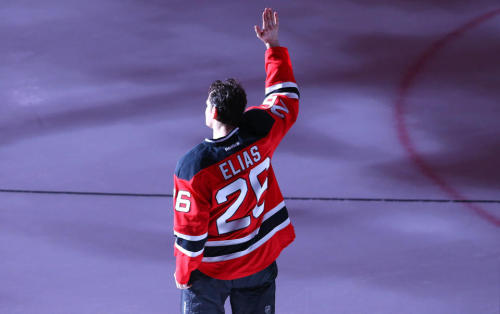 January 6th seems to be a lucky day for Devils forward Patrik Elias. Last night, he recorded his 998th through 1000th points, giving him a grand total of 399 goals and 601 assists. He also played in his 1000th game on January 6, 2012, a strange 3 year coincidence. His 1000th point, that 601st assist, wasn't so impressive – he assisted on an empty-net Mike Cammalleri goal that would cap the Devils' 4 – 1 victory. Then again, neither was his first goal, which was reviewed for a lengthy period of time over a potential kicking motion.
Nonetheless, the journey through the injury-riddled 38 year-old's career has produced many a highlight reel contribution. His career dates back to the days before HD video, but these plays are worth the squinty-eye pain.
In case you missed it, here's Elias' 1000th point, lacklustre as it may be:

The Czech's first NHL goal came December 12, 1996 against the Boston Bruins. It was reviewed for the potential kicking motions and commentators questioned whether the puck even touched his stick at all, but it would mark the start of a highlight career. Later that season, management was so impressed by his play for the AHL affiliate, the Albany River Rats, that they called him up for the 96/97 playoffs. The second-rounder produced five points in eight post-season games.

Elias made heads turn way back before HD video was invented. In the 99/00 season, a 23 year old Elias would find himself on the penalty kill unit for the Stanley Cup winning team. Not to be outshone by Scott Gomez or the legendary Alexander Mogilny, Elias showed the Toronto Maple Leafs what he's capable of all on his own.

In the third round of the 99/00 playoffs, the Flyers took the Devils to game seven. They tied it at one with six minutes left in the second period, and the game seemed to be deadlocked. Not if Elias can help it. With a little help from Scott Stevens and Alex Mogilny (and Jason Arnott fanning on the puck), Elias took the game – and the series – into his own hands.

Let's face it: there wasn't much that Alex Mogilny couldn't do. The man with some of the best hands to ever touch a puck often found himself on a line with Elias, and the two made magic. Like that time in 00/01 when Mogilny fed Elias in front of the net against Carolina.

Elias' 348th goal was also a huge one: On December 17, 2011, he broke the record previously set by John MacLean, and became the New Jersey Devils' all-time leading scorer. This one, though, was a pretty one. A lesson in never giving up on the puck leads to a classic tic-tac-toe, where Elias is the tic AND the toe.

Rewind exactly three years from the night he scored his 1000th point, Patrik Elias was playing in his 1000th career game. He shakes the twine with a laser of a shot assisted by Henrik Tallinder, and ends the night with a goal and two assists. He was the third player to play 1000 games with the Devils.

February 27, 2014. Elias chips the puck to a streaking Adam Henrique. When the puck lands, it literally bounces backwards and lands perfectly on Henrique's stick. He pots a huge short-handed goal on a partial break. The Blue Jackets were just helpless to that pass. Not even words can justify it.

Elias had hepatitis, he got hurt a lot, and he has seen a lot of men come and go from the Devils locker room. But, he seems to have a lot of chemistry with Adam Henrique (who seems to be blossoming into the Devils' franchise player), and his career can most definitely speak for itself. Congratulations on 1000, Patrik Elias.
Love Reading About Hockey?

Subscribe to keep up-to-date with the latest and most interesting hockey news!
| | |
| --- | --- |
| | We hate spam just as much as you |