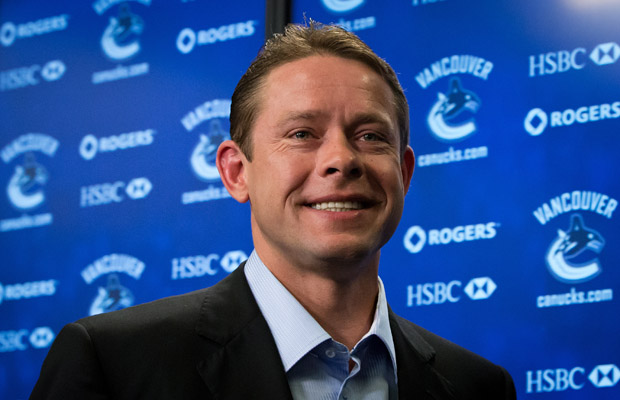 Before there was Alex Ovechkin and Evgeni Malkin, there was a flashy Russian forward in the NHL who began his career in Vancouver, Pavel Bure. Quick, Skilled, and Flashy are all words that describe the style of game Pavel Bure brought when he hit the ice. When Bure was a kid, the Russian Rocket's father had other plans for him, he was going to be an Olympic swimmer and a gold medalist, but not until six year old Bure laced up the skates and was enrolled into a hockey school sponsored by CSKA Moscow. By the tender age of 11 years old, he was the best forward in his league and by 12 years old, he was chosen to be on a television special featuring "The Great One" Wayne Gretzky and Vladislav Tretiak. Two years later he joined the Junior Central Red Army squad and then toured Canada in 1986 with the national soviet midget team.
Bure finally went to play for the Central Red Army and set records left and right. In his first full season with the team, he set a rookie record scoring 17 goals in the season. In his final season with the Red Army, the flashy Russian tied with Valeri Kamensky for the team lead in scoring. Pavel's 35 goals he scored were second best in the league.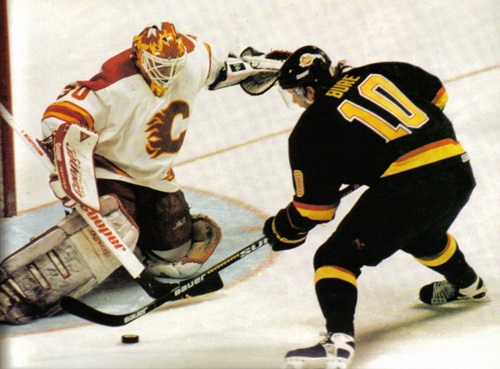 While making a name for himself in Russia, the Russian forward was drafted by the Vancouver Canucks in the 6th round (113th overall) of the 1989 NHL Entry draft. Since he was 18 at the time the Canucks drafted him, it caused some controversy because he wasn't eligible. He was only available to be selected in the first three rounds, and in order for him to be drafted any later had to play at least 11 games per season with the Central Red Army. After a mini scavenger hunt, Mike Penny the Canucks scout, he discovered that he played in additional exhibition games and international games making him eligible. Although after all that was settled, the controversy continued. The Soviets denied the Canucks to sign Pavel Bure to a contract and it wasn't until Bure and his family moved to North America in September of 1991. As soon as Bure touched down in North America the Canucks were hot on the pursuit of signing the flashy forward. Before they could do that, they had to settle a deal with Central Red Army so he could leave his old team to play for his new team in Canada. The Canucks offered $200,000 settlement to CRA and Pavel also offered $50,000, the CRA eventually accepted the settlement and the Canucks signed Pavel to a 4 year deal worth 2.7 million dollars. That made Bure the second highest paid Canuck on the roster next to fan favorite Trevor Linden.
Bure's debut against the Winnipeg Jets ended in a 3-3 draw and held him pointless, but that didn't matter, he already made a big impression with the fans and was an instant favourite. In his first season with the Canucks he recorded 34 goals and 60 points in 65 games and won the Calder Trophy, that was the first and last time a Canuck won that certain award. From 92-94, Bure collected two straight 60 goal seasons and led the Canucks to the Stanley Cup Final in 93/94 to only lose against the New York Rangers in a hard fought 7 game series. In the following season the NHL had a lockout and managed to play only 44 games in the season, Bure still managed to pick up 43 points in that season.
In Bure's final few seasons as a Canuck, he switched his number from 10 to 96, two injury riddled seasons, and a switch back to 10 from 96, and one 50 goal season led him to demand a trade in the 97-98 season, the Canucks didn't give in right away so he didn't attend training camp and Bure returned back home to Russia to practice with the Central Red Army while he held out. Finally in January, he was traded to Florida and the Pavel Bure era in Vancouver ended.
Pavel Bure continued his success throughout his career from Vancouver receiving the Maurice Richard trophy twice in Florida in consecutive seasons and continued to be the flashy forward he was in Vancouver throughout the league. Unfortunately in 02/03 his injury woes continued and after the lockout in 2004/2005, he was forced to retire the following season due to ailments from his previous injuries.
Tomorrow night against the Toronto Maple Leafs, the Vancouver Canucks will finally honor the Russian Rocket after many years and retire his jersey. Sergio Momesso, Dave Babych, Kirk McLean, longtime friend Gino Odjick and others will be in attendance for this special occasion.