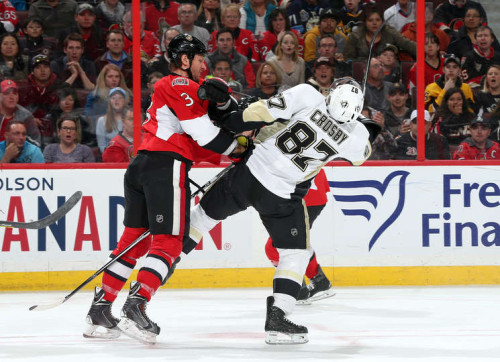 Who would guess that an offense boasting Sidney Crosby and Evgeni Malkin would be struggling to get a playoff spot with 2 games remaining?
The normally dominant Pittsburgh Penguins have looked downright average, even sinking into terrible territory; but is anyone really to blame? Truthfully; there is some blame to be assigned, but not to the "usual suspects." Marc-Andre Fleury has been decent enough with a 2.35 GAA and a save percentage of .920, as well as leading the league along with Carey Price with 9 shutouts.
Though both Malkin and Crosby have seen their usual numbers dip below what we usually expect of them, their on-ice play doesn't seem much different. Both Malkin and Crosby have over 70 points: not the lofty standard they're accustomed to, but still impressive in today's NHL. As of the writing of this article, Crosby is leading the race for points, but where Penguins fans have a reason to worry is the differential by which Crosby is leading. He's tied with John Tavares and only two points ahead of Philadelphia Flyers' Jakub Voracek. In other words, he's not lapping the field, and that is worrisome.
Why isn't Crosby scoring at his usual rate? Why has Malkin been limited to only 70 points? Simple: the Penguins are playing a slower game much less focused on running and gunning, and built around trying to defend. I say trying because this isn't a team built to withstand an offensive onslaught. Truthfully, most of the defensive assets under contract in Pittsburgh are quite capable at putting the puck in the opposite net, but not as adept at keeping it out of their own; there is only so much Marc-Andre Fleury can do to stop a multitude of shots every night.
In a nutshell, would the Penguins missing the playoffs be the worst thing in the world? In some aspects, absolutely; while in other aspects, not in the slightest. In today's NHL, teams that are built as star-studded as the Pittsburgh Penguins are expected to perform; in fact, the adjective "penguin-esque" could be used to describe a dominant team with budding superstars from 2008 to approximately last year (playoffs aside). Missing the playoffs would be a huge setback for a team that has precious few years left in the "prime" tank, and a failure to make the playoffs, or even make an impact in the playoffs would be seen as good enough reason to blow up the core and change things around, leading to the loss of valuable assets.
Here is one thing that I want to preach to fellow Penguins fans that we haven't had much of in the past few years: patience. Should the Penguins miss the playoffs; I don't think anyone should be to blame. With the lineup decimated by injuries, missing the playoffs and getting an extra month of rest between seasons could give the Penguins extra time to get healthy and regain their dominance.
Look at it differently: the Washington Capitals missed the playoffs a couple times in Ovechkin's prime, and they're doing just fine. The Penguins could survive a similar setback as long as they stay the course and don't get trade-happy.
A hidden advantage of the Penguins' recent slide is that we can finally banish the "March of the Penguins" headline back to where it belongs: 2005.
Love Reading About Hockey?

Subscribe to keep up-to-date with the latest and most interesting hockey news!
| | |
| --- | --- |
| | We hate spam just as much as you |