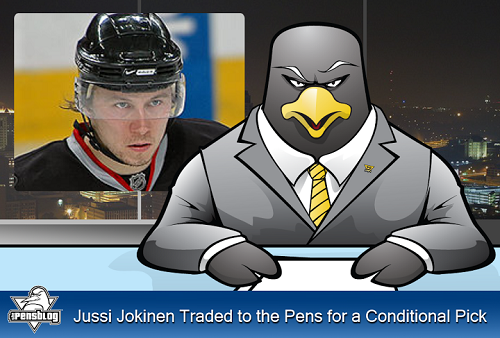 The Pittsburgh Penguins made one final move on the trade deadline, adding forward Jussi Jokinen from the Carolina Hurricanes in exchange for a conditional sixth or seventh round pick. Carolina will also absorb an undisclosed amount of Jokinen's $3M salary. The condition on the draft pick was also not announced but it is expected to be related to how far Pittsburgh goes in the playoffs.
"I'm really excited," Jokinen said. "I've heard nothing but great things about the organization. I will do everything I can help us win the Stanley Cup."
The 30-year-old Jokinen has six goals and five assists in 33 games for the Hurricanes. Carolina put him on waivers back on March 26, but he cleared. Since Carolina is taking on part of his salary, Pittsburgh was willing to bring him into the fold. But Pens GM Ray Shero said that Jokinen will bring some skill to the team.
"His versatility is really important to us," Shero said. "Jokinen is a proven NHL player [and] he's a very smart player [with a] good stick."
Jokinen has spent parts of five seasons with the Hurricanes, including his best season when he scored 30 goals in 2009-2010. Canes GM Jim Ruthorford thanked Jokinen for his time in Carolina.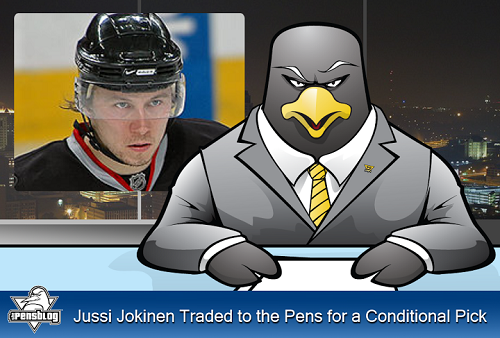 "We thank Jussi for his great service to our organization during the last five years," Ruthorford said. "This deal is important for our team's financial flexibility moving forward."
Jokinen is expected to travel to Pittsburgh early Thursday morning and should be on the ice for their practice at 11 a.m.