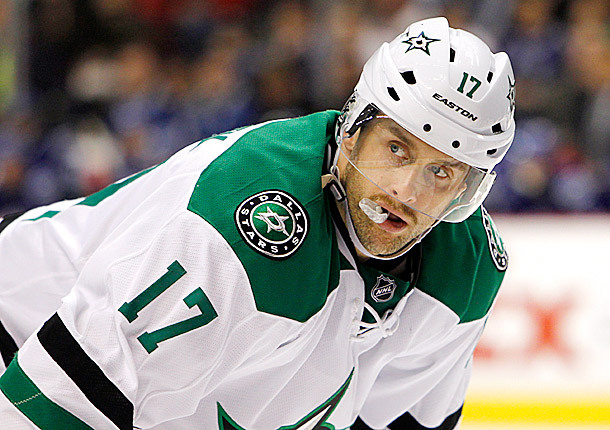 By now everyone knows about the scary incident from Monday night in which Dallas Stars forward Rich Peverley collapsed on the bench after suffering a "cardiac event." And those same people have probably heard about how he wanted right back in the game after coming to.
And, as expected, the hockey players are tougher than basketball players conversation sprung up as it always does in these situations. It's an old argument that gets less and less original with every instance it gets brought up.
A number of people didn't agree with the idea that hockey players are tougher, including National Post columnist Bruce Arthur who tweeted at many people telling them to "F*** off" for making the comparisons. Then I was directed to a Deadspin article by Barry Petchesky on the subject.
Petchesky's article takes the classic stance that hockey fans don't know what they're talking about and that basketball players are just as tough. He says Peverley's desire to return to the game was "dumb" and that he was "not brave, not noble" and "certainly not tough."
His article seemed to be biased, but aside from that is took an approach that failed to look at the real issue: there really shouldn't be a debate over which sport's athletes are tougher. And yet it comes up every time a hockey player pulls out his own tooth, or plays a shift on a broken foot, while his basketball counterpart gets carried off the court for a leg cramp.
The comparisons, quite frankly, are unfair. The culture of hockey is different than that of basketball. And the types of injuries the players in each sport are susceptible to – as well as the extent of these injuries – are much different.
Regardless of potential injuries, these players are tough simply for getting to the professional level. Playing through injury is arguably another level of toughness, but not one that offers the opportunity for fair comparison.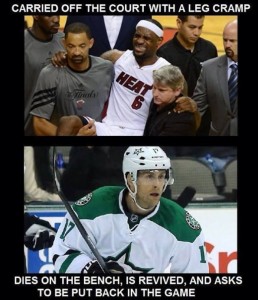 However, the hard work and effort these athletes have made and continue to make is a true measure of toughness. That these players are able to give their all for a full 82-game season and push themselves to be at their best should be the source of discussion.
But for a true sense of just how tough these players are, look no further than someone recovering from an injury. Bernard King, an NBA player from the 70s and 80s, tore his ACL and some cartilage in his knee and missed two years before returning. More recently, Steven Stamkos broke his shin, and after a gruelling recovery process was able to return after four months.
Comparing recovery times for these injuries and deciding who is tougher because one player returns faster than the other is unfair. Deciding who is tougher based on who can play through an injury is even more unfair.
That's the flaw in this old, but ongoing debate. If Peverley had come back and suffered further damage, would we still be calling him tough? Chances are the discussion would be totally different, just the same as if he had taken the safe route and asked to be kept out.
The fact is there's really no winning in this debate. And it's a debate that shouldn't even be going on.