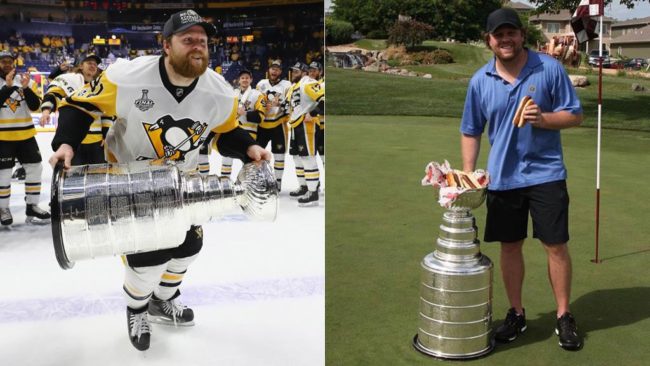 Whether all-star forward Phil Kessel enters an offseason as a Stanley Cup champion or not, he always seems to make headlines during the summer season. Though those headlines aren't always for the better, and at the moment for both he and the Pittsburgh Penguins that is the case.
The Penguins and Kessel were finally bounced from the Stanley Cup Playoffs by the Washington Capitals in six games this past spring, and the 30-year-old's frustration level with Pittsburgh was apparent on and off of the ice. There were reports that he and head coach Mike Sullivan weren't necessarily seeing eye-to-eye and disagreeing, and with his $6.8 million AVV salary trading Kessel would give Pittsburgh some freedom with resurging its roster's depth.
"Phil Kessel is a Stanley Cup champion."

–@POTUS pic.twitter.com/KteWtDxKX1

— ego (@notmalkinego) October 6, 2016
Pittsburgh general manager Jim Rutherford is no stranger to pulling the trigger on blockbuster trades, and his phone will be if it hasn't already been, ringing off the hook for Kessel this offseason.
Fans know it's the offseason when there are the Kessel trade rumors swarming, so let them swarm. Here are five destinations the Penguins could trade Kessel to during the 2018 offseason.
Anaheim Ducks
The Penguins and Anaheim Ducks had made a trade almost three years ago that sent one of Kessel's linemates in Carl Hagelin to the Steel City – the result favored Pittsburgh, as Hagelin thrived playing alongside Kessel while the Pens became the first team since the 1997-1998 Detroit Red Wings to win back-to-back Cups.
The Ducks are in need of making a serious shakeup to their roster, and adding a goal-scorer such as Kessel could be a nice fit for Anaheim. There's a chance the Ducks would be willing to move on and trade forward Corey Perry (somewhere other than Pittsburgh), which would help create cap-space for the team to take on Kessel's contract.
When you realize Phil Kessel is no longer the current Stanley Cup Champion…😢 pic.twitter.com/P5I7WqphmG

— Benstonium (@Benstonium) June 8, 2018
Arizona Coyotes
They can afford him…
If the Arizona Coyotes are serious about moving forward and being legitimate Stanley Cup Playoff contenders again, then expect the 'Yotes to be in heavy talks with Pittsburgh about acquiring No. 81 and the four years that remain on his contract. To say that Arizona needs a superstar caliber skater such as Kessel would be an understatement, as the team desperately needs a skater like he to improve its roster.
In Arizona, Kessel would more than likely be able to get away with being his unique self and grow as a top leader in the Desert. It'd be his show in addition to (Arizona is hoping it re-signs) defenseman Oliver Ekman-Larsson. Kessel in his own little world out west may be a good fit for all three parties involved, considering that the Penguins may be able to get some youthful talent in return.
It's August 14th and two-time Stanley Cup Champion Phil Kessel is eating hot dogs out of the Stanley Cup. pic.twitter.com/39FAF1MPjH

— Pittsburgh Penguins (@penguins) August 14, 2017
Los Angeles Kings
Yes, Western Conference teams are the trend for Kessel in the ongoing trade speculation. Pittsburgh would prefer not to see Kessel any more than twice a season, especially given how competitive the Eastern Conference has become due to the new divisional alignment back in 2013-14. A defeat to the likes of Kessel during the Stanley Cup Playoffs is not in Rutherford's memo for this potential trade.
Similar to Pittsburgh, the Los Angeles Kings still have an open window for collecting another Stanley Cup ring, but both teams are in a situation where they'll have to adapt and make roster adjustments in order for another Cup title to happen. You almost have to wonder if the Kings would send Pittsburgh, forward Dustin Brown or defenseman Dion Phaneuf, in exchange for Kessel; or if the Kings would be willing to send a skater such as Tyler Toffoli or Jeff Carter.
St. Louis Blues
There isn't much trade-talk surrounding the St. Louis Blues and Kessel, but this hockey enthusiast thinks it would make sense. The Blues missed the Stanley Cup Playoffs for the first time since 2011 and had trouble finding the back of net, especially on the power play (ranked 30/31).
The Blues could not only use Kessel's offensive abilities, but his playoff experience would be key for a franchise that's still seeking its first ever Stanley Cup championship. The former 2006 first-round draft pick (5th overall), would develop a whole another dynamic up front and line combinations for St. Louis. The Blues would go from an average squad trying to establish an identity to a team that could pose a serious run at Lord Stanley if a trade such as this one goes down.
Phil Kessel's wrist shot finds Sidney Crosby in front for a Penguins goal. #StanleyCup pic.twitter.com/0ul12Alcax

— Sportsnet (@Sportsnet) May 6, 2018
Vegas Golden Knights
Don't be surprised to see the defending 2018 Western Conference champion Vegas Golden Knights tied to heavy trade talks with a number of skaters such as Montreal's Max Pacioretty, John Tavares' contract rights, Ottawa Senators' Erik Karlsson and then Mr. Kessel.
While the expansion franchise did the unthinkable this season by reaching the 2018 Stanley Cup Final with its group of Golden Misfits, GM George McPhee will have to do some roster adjusting to keep Vegas as legitimate contenders moving forward. Some of the team's top scorers in James Neal and David Perron are set to become unrestricted free agents this offseason, and the Golden Knights may have to acquire a skater such as Kessel to replace a serious hole in team's top-six forwards.
Anything can happen in Vegas…even a Phil Kessel trade.
Potential Eastern Conference teams:
Carolina Hurricanes
A Kessel trade to Carolina could take place at the 2018 NHL Entry Draft in Dallas in just a few weeks (June 22). Carolina needs to part ways with skaters such as Jeff Skinner, and the team could start a reshaping its roster by adding a caliber skater such as Kessel. At the moment, Carolina doesn't pose a threat to Pittsburgh, Rutherford's former team, either.
Buffalo Sabres
While the Sabres need to address and improve their goaltending and defense, the team is more than likely going to trade Ryan O'Reilly and will need to find another skater as soon as possible to replace his scoring duties for Buffalo. O'Reilly had 15 power play goals last season, so adding a power play specialist such as Kessel would be an ideal fit for the Sabres.
Tweet your NHL related questions to @KMcKenna_tLT5 to have them answered & be sure to use the hashtag #McKennasDigest
Kyle McKenna covers the NHL for Hooked On Hockey Magazine. He can be reached on Twitter (@KMcKenna_tLT5)