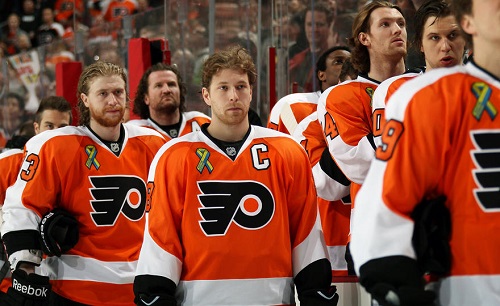 A Brief Review of 2013/14:
When the Flyers' season ended at the hands of the New York Rangers in the opening round of last season's playoffs, there was a lot of uncertainty about the team. Some people believed the Flyers had overachieved by making it to the playoffs after a disastrous start and having a Band-Aid defensive corps; especially after Peter Laviolette was fired just three games into the season.
Some people believed that a deeper playoff push was plausible with an MVP-worthy performance from Claude Giroux in the second half of the season and reliable, if not superb, goaltending from a resurgent Steve Mason.
The Stats: 42-30-10 for 94 points
3rd in Metropolitan Division, 6th in Eastern Conference and 13th in the NHL overall.
2014-2015
Goodbyes and Fresh Faces
IN: D Michael Del Zotto (free agent); C R.J. Umberger (trade); RW Andrew Gordon (free agent); C Blair Jones (free agent); D Nick Schultz (free agent); RW Zack Stortini (free agent); C Ryan White (free agent); G Rob Zepp (free agent); LW Pierre-Edouard Bellemare (free agent)
OUT: LW Scott Hartnell (trade); RW Steve Downie (free agent); D Bruno Gervais (free agent); D Erik Gustafsson (free agent); C Ben Holmstrom (free agent); LW Tye McGinn (trade); C Kris Newbury (free agent)
The most interesting (to say the least) transaction in a long, long line of interesting transactions made by Flyers' brass was Ron Hextall's first move as general manager: long-time Flyers' fan favorite and first line left winger, Scott Hartnell, was traded for former Flyer R.J. Umberger. It's not often that a legitimate top line winger is traded (mostly) straight up for third line man – ignoring the additional fourth round pick. Not only does the deal seem lopsided, but Hartnell's "bromance" with Giroux and creates a hole not easily filled on that first line. To put it simply, it's not usual for a team to trade the embodiment of their team spirit and stereotypes for spare parts.
As far as season predictions go, look for Steve Mason or Ray Emery to be used as trade bait to bring in some strength in net; given Ron Hextall's lack of inhibition when it comes to pulling the trade trigger, or for some forward depth to be sacrificed to improve a thin defensive corps.
A few more bold predictions for the 2014-2015 Flyers
-Mason will come back to earth and have an average season. Average is not good for this defense, so he may be the scapegoat for the team's defensive shortcomings.
-Giroux will break the 30 goal barrier for the first time, with an even 30.
-Giroux will also beat his career high of 93 points.
-Despite these highs, the Flyers will be closer to Connor McDavid than the Stanley Cup this season.
-The Flyers will battle the Edmonton Oilers for furthest spread of best offense to worst defense.
Rookies to watch for in the near future : D Shayne Gostisbehere; C Scott Laughton; D Samuel Morin
Love Reading About Hockey?

Subscribe to keep up-to-date with the latest and most interesting hockey news!
| | |
| --- | --- |
| | We hate spam just as much as you |