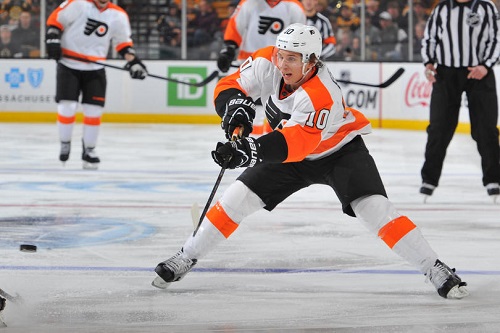 A new NHL season is coming upon us and this means another fantasy hockey season is also nearing. Here is a look at the Philadelphia Flyer players and their projected point totals for the upcoming campaign.
Forwards
Claude Giroux, Center
The only concern here is the fact Giroux had finger surgery over the off-season. He should be fully recovered for the season though and be motivated to guide the Flyers back into the post-season. He will be playing alongside a skilled winger in Jakub Voracek and should be a top ten fantasy player next season. Projection- 26 G, 59 A, 85 points
Jakub Voracek, Right Wing
Basically a point per game last season, the 24-year-old has the potential to keep improving and should continue to do with a talented offensive corps in Philadelphia. Playing alongside Claude Giroux doesn't hurt. Voracek will also be one of the best power-play players in the game once again.Projection- 31 G, 38 A, 69 points
Brayden Schenn, Center
The breakout year hasn't happened yet and there is a good chance it's about to. Schenn will likely play on a very dangerous second line that could include Wayne Simmonds and Vincent Lecavalier. He could be moved to the wing but he is destined to breakout this season. Projection- 24 G, 41 A, 65 points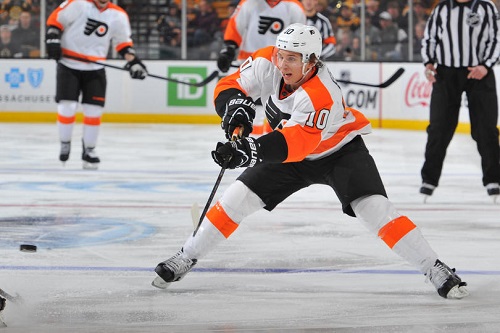 Vincent Lecavalier, Center
The new addition on offense should make a solid impact as he is likely to be the team's second line center. Don't have too high of expectations though because at age 33, his days of being one of the league's top scorers are over. He will still be very dangerous on the power-play. Projection- 20 G, 38 A, 58 points
Wayne Simmonds, Right Wing
His value extends past the scoresheet but he can still light the lamp frequently. The addition of Lecavalier will only help. Projection- 27 G, 24 A, 51 points
Scott Hartnell, Left Wing
He pretty much has bounce back season written all over him. His ice time decreased drastically last season but he will have to show he can play on that top line with Voracek and Giroux. He is way better than the 11 points he got last season. Projection- 25 G, 26 A, 51 points
Matt Read, Right Wing
Solid sniper who will likely be playing on the third line, limiting his ice time. Flyers third line is still a scoring line though and Read is first to be moved up if there are injuries. He will be on the team's second power-play unit and can score 20 goals easy. Projection- 24 G, 25 A, 49 points
Sean Couturier, Center
Taken on a defensive role with the team but the offense is waiting to come pouring out. He's way too good to just be known as a shut down player. Couturier is only 20 years old and will improve on his 15 points last season. Being on the third line means he won't be putting up huge numbers yet but expect some progression. Projection- 19 G, 25 A, 44 points
Defensemen
Mark Streit
Deadly on the power-play and has great vision, but who knows if Philly will alter their dominating top unit from last season. He will get power-play time though with one of the units. Nevertheless, he is extremely consistent and you know what you are getting. Projection- 10 G, 38 A, 48 points
Kimmo Timonen
Only concern is he is 38 years years old. Guaranteed regular on one of the best power-plays in the league though and is very consistent with his offensive production.  Projection- 6 G, 36 A, 42 points
Erik Gustaffson
He is a glimmer of hope to one of the worst defensive teams in the league. The 24-year-old finished last season strong and put on a stellar performance with Sweden at the World Championships. Could see second unit power-play time. Projection– 5 G, 18 A 23 points
Goalies
Steve Mason
Was stellar in the few games he played with the Flyers last season. The past Calder trophy winner is in need of a fresh start and can turn his career around with the Flyers. A solid backup goalie in Ray Emery means Mason will truly have to fight to earn his playing time. Projection- 24 W, 3 SO
Ray Emery
Phenomenal as the backup in Chicago last year and will compete with Mason for starting duty in Philly. Injuries are a frequent concern but Emery will see a good chunk of starts in Philly. Could run away with the starting gig if Mason can't find his game. Projection- 20 W, 2 SO
Love Reading About Hockey?

Subscribe to keep up-to-date with the latest and most interesting hockey news!
| | |
| --- | --- |
| | We hate spam just as much as you |