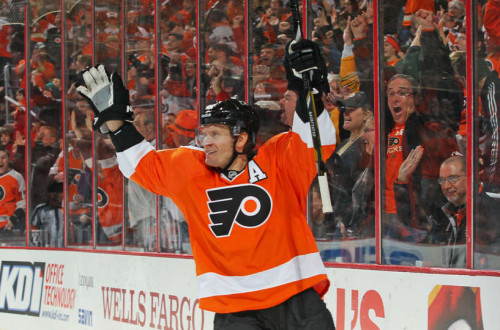 He's baaaack!
The Philadelphia Flyers have signed 39-year-old defenseman Kimmo Timonen to a one-year contract extension, according to general manager Ron Hextall.
Kimmo Timonen signs a one-year deal with Flyers. Base salary in the $2 million range could be worth close to $4 million with bonuses.

— Craig Custance (@CraigCustance) June 13, 2014

The 5-10, 194-lb blueliner will return for his eighth season with the Flyers. He was acquired from the Nashville Predators along with Scott Hartnell in exchange for Nashville's first-round pick in the 2007 Entry Draft on June 18, 2007.
Timonen racked up 35 points (six goals) in 77 regular-season games this season, to go with a plus-5 rating. He only managed one assist in seven playoff games.
He has appeared in 519 of a possible 540 games for the Flyers over the past seven seasons, never missing more than six games in a season and appearing in all 82 games in 2009-10 and 2010-11. In that time period, Timonen notched 38 goals and 270 points.
Timonen ranks third all-time among Flyers defensemen in points (270) and 10th in games played (519).
It appears Timonen took a pay cut to remain a Philadelphia Flyer.
Hextall said Timonen understood Flyers' cap situation and didn't want to play anywhere else.

— Dave Isaac (@davegisaac) June 13, 2014
Timonen: "I want to help this team win a Stanley Cup"

— Dave Isaac (@davegisaac) June 13, 2014
Looks like $2M plus incentives for Timonen. He probably could have gotten more on open market. Took a cut to remain in Philly #KimmoForever

— Brady Trettenero (@BradyTrett) June 13, 2014

Fan reaction to the signing has been mostly positive, with fans happy the soon to be 40-year-old decided to give it one more year.
Timonen for $2mil is a lot different than Timonen for $6mil. I am okay with this.

— Flyers Bags in DC (@flyersfansindc) June 13, 2014

https://twitter.com/matty_d99/status/477513738723921920
if you don't love AND I MEAN LOVE Kimmo Timonen then just don't even talk to me

— Kurt (@Kurt_BSH) June 13, 2014

Some feel, as seen this past post-season, that he may not have much left in the tank.
Hextalls first fuck up. Why give us another year of fucking Kimmo Timonen, the dude has nothing left.

— Raymond Finkle (@cdalessandro87) June 13, 2014

https://twitter.com/the1and_onli/status/477502323199983618
https://twitter.com/KBetts21/status/477509891389526016
He may be old, but you can't argue the value. After all, Timonen just went from the Flyers' most expensive defenseman to their lowest-paid defenseman. Not a bad bargain at all.