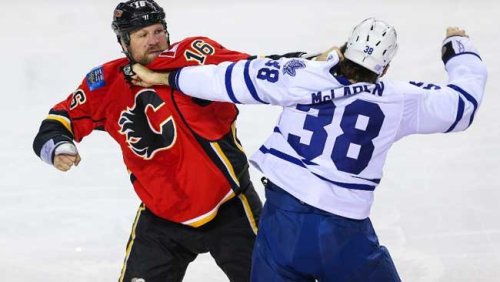 If you're playing hockey on a team with Brian Burke somewhere in the front office then there's a good chance you'll hear the word truculence (and its cousins) on a regular basis.
So it shouldn't come as any surprise to see the Calgary Flames employing Burke's well-known tactics on their roster – even though he isn't the primary decision maker when it comes to personnel. That power belongs to new general manager Brad Treliving, but Burke's fingerprints are clearly visible throughout the roster.
Burke's goal when he took over as president was to better align his team with the Western Conference style of play: one of grit, physicality and, yes, truculence. And based on the players Calgary brought in and brought back this off-season, the goal is definitely a lot closer to being reached.
Take Brandon Bollig – the veteran role player formerly of the Chicago Blackhawks. Never known for his scoring ability – his highest point total at any level was 31 with the Lincoln Stars of the United States Hockey League in 2007-08 – Bollig has still found a way to make himself useful at the professional level.
What he lacks in offence he more than makes up for with his body: Last season he threw 203 hits, which ranked 33rd in the league. He may not produce much offence, but he doesn't need to in order to be effective. But if anyone still needs convincing, his video attempting to mirror former teammate Patrick Kane's silky smooth hands really displays his hands of stone.
And just as Bollig was brought in for his physical presence, Lance Bouma was retained for the very same reason. He only contributed 15 points to the team's offence, but delivered 181 hits (50th in the league) and 87 blocked shots (122nd in the league) – no doubt a big reason the Flames re-signed him this offseason.
But what really speaks volumes to the team's commitment to the physical game is how it has handled Brian McGrattan's situation. This is a player who, other than last season, had seen more than 40 games of action just once in his NHL career. He doesn't score goals, nor does he set them up nor is he of any use in the offensive zone at all, really.
And yet McGrattan found himself in the starting lineup 76 times last season. More often than not it was for the scare factor: opposing teams know he is there for his fists. He fought 11 times last season and has averaged around eight fights per season in his nine years in the NHL. His presence on the bench makes his teammates look 6'4" 240 lbs.
Even the seemingly minor acquisitions are still important. Kris Russell (who was re-signed) is an elite shot blocker – he had the third most (201) last season – who can chip in on offence; Deryk Engelland is a veteran 5th/6th defenseman who plays the enforcer role well; and even Raphael Diaz, brought in on a professional tryout, isn't afraid to sacrifice his body.
Even beyond personnel, the Flames showed their desire to be a tougher team when they dedicated a portion of a practice solely to fighting. The point of the practice wasn't to encourage fighting, but to prepare the players. Still, the fact they practiced it is intriguing.
And of course teams cannot win on hits and blocked shots alone – hence the additions of Mason Raymond and Devin Setoguchi. But make no mistake, though these particular players don't embody a physical style, they are the exceptions in an off-season that was about getting bigger, stronger and tougher to play against.