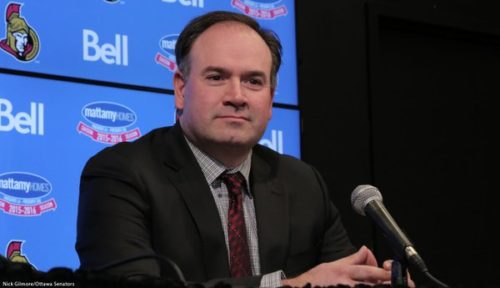 When brought in as the new GM of a team, being gun shy can be part of the territory.
Especially so when the man you're replacing has been your superior for years.
Even more so when that man is as seasoned, well-respected and admired in the hockey community as Bryan Murray is. After all, the last thing any GM wants to do is, in the span of a few months, undo the years or sometimes decades of work done by his predecessor to build a stable franchise.
But if Pierre Dorion had any reservations about tinkering with the roster put together by Murray, he's done a good job hiding them in the few short months he has been at the helm of the Sens. Since taking over April 10 he has fired and subsequently hired an entire coaching staff, made a couple of savvy free agent signings, and pulled the trigger on two unlikely – if not surprising – trades.
More than just the changes he's made to the Sens – both on and off the ice – it's the way he's gone about doing so that should make Sens fans optimistic. Some new general managers step into office and feel a need to make moves simply to earn the respect and trust of the fans, but Dorion has made a point of putting his unique stamp on this team.
Case in point: the search for the new coaching staff, starting with the head coach. With Mike Yeo and Bruce Boudreau – the two most recognizable and sought-after free agent coaches – available for hire, it would have been easy for Dorion to focus his energy on courting either, but he chose instead to go slightly off the board in hiring Guy Boucher.
But Dorion didn't stop there: He handed to keys to the car (well, the bench) over to Boucher, entrusting him to find qualified assistants while recognizing the importance of a cohesive bench staff. And if his hires – all four of whom previously worked with him at some point in their respective careers – are any indication, familiarity is something Boucher is quite keen on.
So it's understandable there would also be extra incentive for Dorion to work out a contract with Mike Hoffman – Ottawa's leading goal-scorer the past two seasons and someone who had success with Boucher in Drummondville of the QMJHL. Perhaps equally important, Dorion was able to keep Hoffman happy by getting him signed before the two sides met in arbitration.
He also avoided arbitration with 22-year-old Cody Ceci, but it was his work earlier in the summer that didn't receive much fanfare, but could pay dividends. Dorion shored up his depth down the middle by adding Chris Kelly – a much needed left-hand shot – as well as veterans Mike Blunden and Tom Pyatt, two perfect candidates to be injury replacements.
As important as each of the aforementioned moves was to the success of the club, none signalled a changing of the guard in the front office as much as the Alex Chiasson and Mika Zibanejad trades. Both were failing to meet expectations, but the former came over in a trade for Jason Spezza, the latter drafted ninth overall, so the optics of trading either wouldn't have good.
But with Murray gone the opportunity arose for Dorion to wash his hands of both – and he wasted no time doing so. Chiasson was flipped to the Calgary Flames for young defenceman Patrick Sieloff, while Zibanejad was dealt to the New York Rangers for veteran pivot Derick Brassard (with draft picks also changing sides).
While neither was a blockbuster in the truest sense of the word, the fact he was able to get more than just picks is nothing short of impressive. But for Dorion, it's just another day on the job in what has been an eventful start to his managerial career.