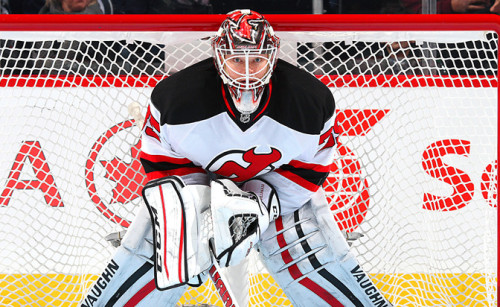 Once upon a time, Cory Schneider was one half of the award-winning Vancouver Canucks goalie tandem, deemed by the NHL Awards as the best in the league. He was then acquired by the Devils in a trade that sent a 2013 first-rounder (who turned out to be Bo Horvat) to the Canucks, on the day of the NHL draft. The rest, as they say, is history.
At the time of writing, Schneider boasts a .928 save percentage and a GAA of 1.98. Both place him among the top 10 goalies in the league. He's got 9 wins (though the team has 10) and a shutout, and has made some outstanding, game-saving stops. Watch him absolutely rob the Ottawa Senators' Kyle Turris in a shootout attempt:
In Saturday's 4-0 blanking of the Pittsburgh Penguins, Schneider made 21 saves and earned himself first star of the game. He made the whole thing look easy, including this stop when superstar Sidney Crosby came streaking into the Devils' zone on a two on one:
All of this sounds good on it's own, but sounds even better when you realize that nobody projected that the Devils would be 4 games above .500 with a 10-6-1 record and sitting (at the time of writing) in fifth place in the Eastern Conference. He seems to be thriving in his role as the Devils' starting goalie and, at just 29 years old, is proving himself as part of the NHL's elite. "You want to make every save, but I'm learning to make the key saves and the big saves in the home-plate area," he told Ben Kuzma. "I pride myself on that if I can see it, I can stop it. You want to eliminate back-door plays and pass options by stepping out, but I don't want to look over my shoulder and have pucks sliding over for an easy tap-in."
A vital part of Schneider's growth, he says, was the time he spent with the Canucks' goalie coach, Rollie Melanson. He also credits new coach John Hynes' system as a key part of the Devils' success. "So far, it's worked out," he said. "We've done a good job against some pretty good teams and have suppressed shots and chances. Early in the year, a couple games got loose, but we had one where we only gave up 14 shots — to Columbus — and then held the Islanders in check. Part of our identity is to be hard to play against and be defensive. But we're also closing time and space and trying to get up in the offensive zone. It's the best way to pressure. We're not running out of position to make plays. We're being hard on the puck and forcing teams to make turnovers."
Even at the beginning of the season, when the Devils lost all of their first four matchups, Schneider stood out as a cornerstone of the team. They finally found their own, and have not looked back since. "If you want to be the worst team in the league you can be that; it's easy," he said in an NHL.com interview at the beginning of November. "That's the easy part. The hard part is to change that and go out there and prove it. We're only 11 games in so we've got a long way to go. But hopefully we're putting people on notice that we're going to be a tough out. Regardless if we win or not, we're going to be a hard-working team. I think more often if you're the harder-working team you can get wins."
Without a doubt, the Devils have surpassed all expectations so far this season. No one thought the New Jersey Devils would play as well as they have been, and a large part of their success can be attributed to Schneider's spectacular goaltending.