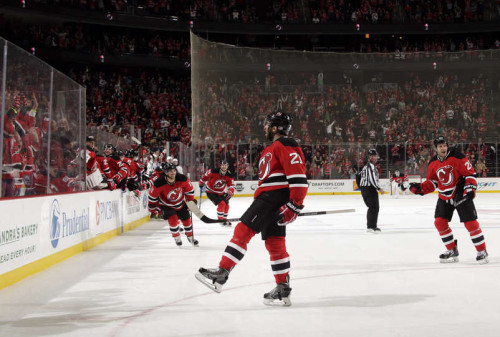 New Jersey native Kyle Palmieri is taking hometown pride to a whole new level. Since the month of November began, Palmieri has kicked his game into overdrive – he's scored 5 points (2G – 3A) in three games, scoring the overtime game winner in the Devils' 4-3 victory over the Canucks on Saturday.
Since the Devils acquired him from the Anaheim Ducks in the offseason, Palmieri has fit perfectly in a top six role on the Devils' forward corps, playing with Travis Zajac (who has also been on fire in his own right) and Jiri Tlusty. Palmieri also sees minutes on the PP, and often finds himself on the ice in high-pressure situations – namely, 3-on-3 overtime.
Granted, it is still early in the season, but Palmieri's name is one of the top 5 on the Devils' scoring chart, joining the ranks of Zajac and the Devils' first line – Mike Cammalleri, Adam Henrique and Lee Stempniak. This rate of production from Palmieri (and all of the Devils, for that matter) is exactly what the Devils need to find themselves in a postseason position come April. Palmieri himself shows flashes of puck savvy, plays a hard-working game, and his game is at a very mature level – believe it or not, Palmieri is just 24. He was born on the first day of February in 1991 in New York state, but was raised in the New Jersey suburb of Montvale.
Last season, Palmieri occasionally played on the Ducks' second line with Ryan Kesler and Matt Beleskey (who has since relocated to Boston), but often was juggled as line matchups changed – he spent a majority of the season on the third line. But, he seems to be the perfect fit under John Hynes' revamped Devils system.
His overtime goal on Saturday against Vancouver was the third of his young career and, as it stands, he is now one point away from 100 in his NHL career. Check out the OT winner below:
He also scored this goal right off the faceoff in November 6th's huge win over the defending Stanley Cup champs, the Chicago Blackhawks.
The Devils traded a 2015 second round pick and a 2016 third round pick to the Ducks for Palmieri. It is interesting to note, though, that this is the last year of Palmieri's contract, which carries a cap hit of $1.47 million.
When they acquired him, GM Ray Shero was visibly pleased. "He's at the right age for us," he said. "The style of play, he plays with speed and can really shoot a puck. Plus his contractual situation in terms of having a year left and two years restricted is good for us. The attraction is the age, the way he plays the game, the way we want to play. I think it'll be beneficial for both of us."
Coach Hynes and Palmieri have worked together before, too. Hynes was Palmieri's coach from 2007-2009, when they were both part of the United States National Team Development Program. Shero said that connection also contributed to the decision to trade for Palmieri.
"It was a little while ago, but certainly he knows Kyle well and having coached him is an added benefit," he said. "Kyle was younger then, but he's still only 24 years old now. John, I asked him his opinion on him as a player and as a person, what he's like on and off the ice, and we made the deal so it couldn't be too bad."
"In terms of fit, that's the kind of guy we were looking for." Shero had no idea how right he was.