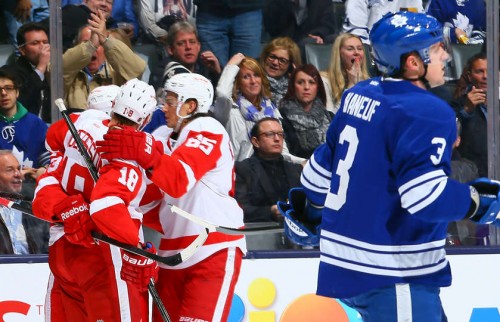 The Toronto Maple Leafs have now lost eight games in a row, making a playoff spot less and less likely with each loss (insert golf course joke here). I should probably be talking about their probability (or lack thereof) of making the post-season, however, I don't really want to, so I'm not going to, and that my friends is the power of being a writer.
Four of their final six games are interdivisional, and as we all know, the Leafs aren't exactly running the Atlantic right now. So instead of trying to figure out their playoff probability and likely throwing my computer out the window in the process; let's all venture through the next six games, size up the competition, and grab any spare horseshoes, rabbit's feet and four leaf clovers lying around… because honestly, they're going to need them.
April 1st – Calgary Flames
The two teams have only met once this season, and the game ended in a 4-2 victory for the visiting Maple Leafs. Naturally, the Leafs were outshot 43-22, and Bernier was named 1st star of the game.
The Calgary Flames are currently sitting at 69 points, 13th out of 14 teams in the Western Conference. During their last meeting in October, the Leafs took eight penalties, and considering their current penalty kill standings, they would be wise to try and lower that number this time around. Calgary's penalty kill percentage is 81.65%, while Toronto's is only 78.35%. That being said, The Leafs have scored 48 power play goals, while the Flames have only managed to score 35.
On any other night, a game against a team from the Western Conference wouldn't be make-or-break for the Leafs, but at 80 points and only six opportunities to raise that number, every win from here on out is necessary for post-season survival.
April 3 – Boston Bruins
The Leafs and the Boston Bruins are in polar opposite situations right now. The Bruins just clinched the Atlantic Division and are currently sitting at 110 points, meaning they could lose every game between now and the end of the regular season and they would still be the top team in their division. Must. Be. Nice.
These rivals have only met three times so far this season. The Bruins won two of those games; 3-1 at home in November and 5-2 in Toronto in December. The Leafs won the third game 4-3 in Boston in January, and the teams haven't met since.
This season, the Bruins have outplayed the Leafs in almost all categories, especially over the last 10 games. One thing Toronto can try and use to their advantage are their power play opportunities. The Leafs are often categorized as an aggressive and physical team, especially when playing teams they have bad history with, or in this case, really bad history with. If the they can use their physical play to evoke some Boston penalties, they might stand a chance of getting the two points they so desperately need this late in the season.
April 5 – Winnipeg Jets
Just like the Flames, Toronto has only met the Winnipeg Jets once during the 2013-2014 season. The Jets won 5-4 in overtime, with both Reimer and Bernier getting ice time. This was the game when Carlyle decided to start Reimer because he thought he should "let a guy play in his hometown", but then replaced him with Bernier after he allowed 3 goals. Take that as you will.
Winnipeg currently sits with 75 points, and seven games left to play. Luckily for Toronto, Winnipeg isn't having the season of a lifetime, averaging 1 point per game (75 points in 75 games, gotta love easy math), a 0.500 win percentage, and a 15.63% on the power play. Their penalty kill statistics are better than Toronto's, but that's not exactly hard to beat.
This is one of those games that could really go either way, both teams have had their good and bad moments this season. Technically speaking, the Jets getting two points wouldn't directly affect the Leafs playoff chances, but as pointed out earlier, the Leafs need points. All the points they can get.
April 8 – Tampa Bay Lightning
Tampa Bay is still a fresh wound for Toronto, having lost to them (well, mainly to Stamkos) less than two weeks ago. This was the game where Leafs' defenceman Paul Ranger was taken off the ice in a stretcher after being boarded by Tampa's Alex Kilhorn. At this point in the season when tensions are already running high, this has the potential of being a particularly heated game.
Right now, Tampa sits third in the Atlantic division with 91 points, and have earned at least one point in all of their last 11 games. To put things in perspective: if they lost their remaining eight games and the Leafs won their remaining six in regulation, Toronto would only sit one point above the Lightning.
The Ranger game was the third meeting between the two teams this season. The Leafs won the first two games 3-2 and 4-1. Sure, winning two of three games looks promising, but Tampa Bay was missing their captain Steven Stamkos both times, an absence he made up for on their third meeting with a hat trick.
Again, the Leafs have their power play skills to their advantage in this particular match-up, and if they haven't yet gotten over their teammate's injury, they could have plenty of opportunities to score some man-advantage goals.
April 10 – Florida Panthers
While the Leafs are having a bad run (ok fine, a really really bad run), the Florida Panthers are having an all-around bad season. They're 27-40-8, with 62 points, the worst power play and penalty kill in the league, and no chance of making the playoffs.
Despite all of that, the Panthers have only allowed three more goals than the Leafs this season. This doesn't reflect very well on Toronto's defence, but it does mean that the offensive lines have a good chance of scoring some goals. Florida has only scored 171 goals this season, second only to the last place Buffalo Sabres, who have scored 136. Toronto has scored 211.
All in all, it looks like the Leafs could have a fairly easy two points on their hands, but then again, they lost two of their three games against Florida so far this season, and they haven't scored many of those 211 goals as of late.
April 12 – Ottawa Senators
Last but not least, the Battle of Ontario. The Ottawa Senators and Toronto have met three times this season, and against all odds, the Leafs have won every time.
The Sens have 74 points with nine games left, giving them a potential to obtain 18 points, and leave the season with 92 points – the same number the Leafs would leave with if they won all their remaining games. Obviously this is impossible, because either Ottawa or Toronto is going to lose this game, and the likelihood of either of them winning the rest of their games is pretty slim.
Statistically speaking, he long-time rivals aren't that far off from each other this season. Ottawa, who has 3 games in hand over Toronto, is 30-29-14 this season. They've scored 206 goals and allowed 239. Their win percentage is 0.507, not far off from Toronto's 0.526. This is another game that could go either way. Normally during a rivalry game home-ice-advantage comes into play, but based on their previous meetings this season, Ottawa hasn't been able to beat the Leafs no matter the setting.
There are countless different variables that can affect the outcomes of these last six games, making it impossible to predict if the Leafs will be able to snag their first 82-game season playoff spot since before the lockout in 2004 (aaaaand cringe). Their playoff position depends not only on their own wins, but also on the wins and losses of the other teams in the Atlantic Division. They do have a statistical power play advantage over most of these teams, but relying on power play goals to win their six most crucial games of the season… well, it isn't reliable at all.
What can be predicted, is that they will be hitting more golf balls than hockey pucks if they don't change their tactics immediately. Eight losses could just as quickly become 14 losses, unless Carlyle and his boys in blue can find a way to get some wins in, and fast.