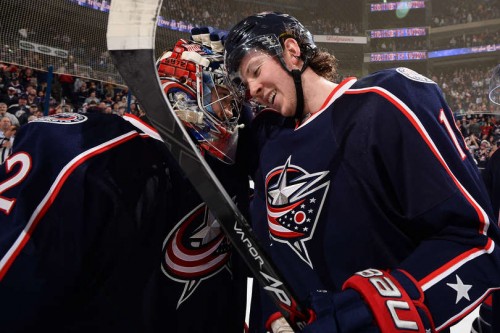 For only the second time in team history, it looks like the Columbus Blue Jackets may have themselves a playoff spot. Hopefully, however, this doesn't mirror their 2009 playoff performance.
If you need a refresher, Columbus finished 7th in the Western Conference that year, and were forced to face an experienced Detroit Red Wings lineup. Detroit dominated the series – winning in four straight games – leaving the Jackets in search of their first playoff game win.
As of right now, the Jackets sit in the last wild card position in the East with 87 points, and have four games remaining on the schedule. In their last 10, the Jackets are 5-4-1, and will need to win their last few games in order to secure a playoff position. The Jackets have 87 points, and the New Jersey Devils and the Toronto Maple Leafs are right on their tail both tied at 84.
This past Friday (April 4, 2014) was a heartbreaker for Columbus. The Chicago Blackhawks were in town looking to continue their dominance, and they did not disappoint. Going into the third the game was tied at three, and the Blue Jackets – who were just looking to pick up a much-needed point – were shut down when the Blackhawks Ben Smith found the back of the net with just under four seconds left in the game. With the Eastern playoff race so close this was not the ending the Jackets were hoping for, though Sunday night was a different story.
Although the Jackets didn't come out strong against the New York Islanders they managed to fight through and play a solid game. It was no surprise the first star was given to Sergei Bobrovsky, who recorded his second shutout in just three games. With this much-needed win, the Jackets were able to pull away from the Devils and Leafs – however slightly – and also gain ground on the Detroit Red Wings.
Looking ahead, Columbus will have their final home game tomorrow against the Phoenix Coyotes. The team is scheduled to end off the season with a three game road trip where they are set to face off against the Dallas Stars, Tampa Bay Lightning and the Florida Panthers.
Love Reading About Hockey?

Subscribe to keep up-to-date with the latest and most interesting hockey news!
| | |
| --- | --- |
| | We hate spam just as much as you |