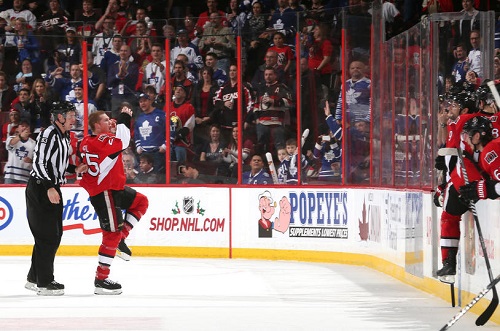 The Ottawa Senators' playoff chances are in jeopardy — 31 games into the season.
For those who respond saying 'how is that possible? There's 51 games still to be played', things are very different this year. For starters, the playoff seeding format is now divisional and no longer conference-based. This means that, instead of simply taking the top eight teams from each conference and slotting ranks one versus eight and so on, the top three teams from each division are guaranteed a playoff spot. The last four playoff teams ( next two top teams from each conference) are determined through the wild card, regardless of the division they're in. This guarantees that the true top eight teams of each conference get into the post-season and eliminates situations where a team would finish top three in the conference despite having less points than the fourth-placed team. For example, last season's Washington Capitals.
Now, how does this make things more difficult for the Sens? Well, if the playoff format was the same this season as it was in recent seasons, the team would currently be two points out of a standard playoff spot. With the re-aligned divisions and newly implemented playoff seeding setup, the team is eight points back of a divisional playoff spot, and six points short of the last wild card. In a perfect Ottawa Senator world, they would need three to four straight wins to be tied for a playoff position, let alone to secure one. And that would coincide with the assumption that all the other top eastern conference teams all lost four straight games concurrently. Not likely.
On sportsclubstats.com, Ottawa's most viable way into the playoffs (better than a 50-50 chance) would be if they were a 91-point team by season's end. In order to obtain 91 points, they would have to go 28-17-6 (.607 point percentage) in their next 51 games. Another way of approaching it would be that they need 62 points in their next 51 games in order to have a 62.2 per cent chance of making the playoffs. That would mean going on mini and substantial winning streaks with limited room for losses. The only time the Ottawa Senators won 2 games in a row was in early November when they beat the Montreal Canadiens and Florida Panthers in succession. The team's longest winning streak is three games and they have only been on that streak once.
Even if they went 24-21-6 (.529 point percentage) over the next 51 games, they would have a longshot 0.6 per cent chance at a playoff spot. At their current pace, they have a 18.2 per cent chance, and that number will progressively shrink if they continue at the same rate. To add context, Toronto, currently six points ahead of Ottawa, has a 63.8 per cent chance of making the playoffs, and they're only four points clear of the Carolina Hurricanes for the final wild card.
Note: These percentages change every time a competitive eastern conference team plays. Percentages as of Dec. 10, 2:07 A.M.
With 51 games remaining, clearly the Senators have to beat good teams, and take out division rivals to keep their playoff hopes alive. Consistency is necessary if that is to happen. And to be clear, the better-than-50-50 scenario of making the playoffs would likely involve securing one of the wild cards. The wild card teams play the two best conference finishers — so even after an extremely strong second half, one of those wild cards would guarantee a round one date with the Pittsburgh Penguins or Boston Bruins.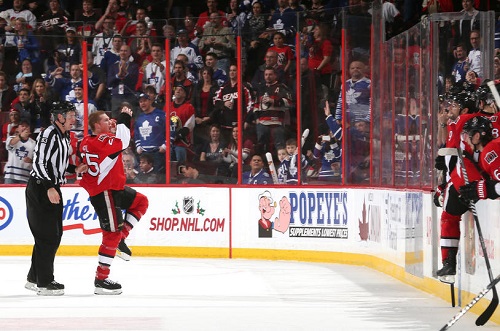 This may seem like a daunting potentiality, however, the Sens have an excellent record against their division (7-2-2), and good record against Eastern conference teams in general (11-6-3). But Western conference teams have been a challenge for even the top teams in the east. Ottawa has an agonizing 1-8-2 record against the West thus far and that'll need to improve as 15 of their last 51 games are against John Wayne and the gang. Just another perk of re-alignment.
Despite it not showing up on the scoreboard, Ottawa's play has been more consistent of late. Their shootout victory against the Philadelphia Flyers Monday marked the seventh game in a row where they've outshot opponents, and in four of those seven, kept them under 30 shots. It's not representative of an elite squad, but for a team that's struggled with inconsistency and defence, it's certainly an improvement. Monday's win was not an easy one by any means, but it was a true victory instead of a morale one for a change — exactly what they need going forward.
Other areas of their game that have improved in their consistency include the face-off circle and discipline. In the past seven games where they outshot teams, they won the majority of face-offs in six of them. All in all, the team has been dangerous in the offensive zone for the whole season. And they're still taking penalties, just not as often as they had been ten games ago.
If they're able to tighten up in their own end, or at least improve in it, look for them to make up serious ground in the Atlantic division.
If the Senators make the playoffs with a strong second half, they will effectively have proven that they belong there. The coaching staff believes they do, and if that's a reality they want to live in, they need to start putting wins together effective this week. And beating the Flyers was a good start.
Every game is key going forward. Whether it's their home-and-home with the lowly Buffalo Sabres, or their date with the Los Angeles Kings to close out the week, there are no off nights. There is no late-season surge.
Yes — 31 games into the regular season, the Ottawa Senators are fighting for their post-season lives.