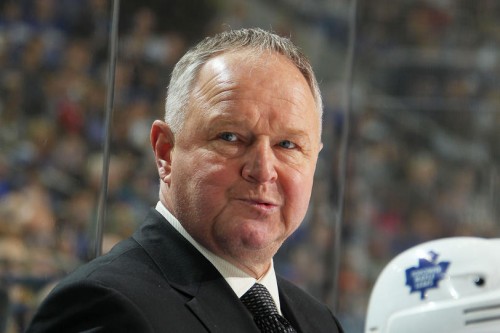 The 2013-14 season marked Randy Carlyle's second term with the Toronto Maple Leafs. As Leafs Nation knows, the end of the past season ended with a large and depressing bang. A steady fall from competing for home ice advantage to desperately trying to stay in a wildcard position, the Leafs simply fell apart.
One of the many factors that fans quickly pointed their fingers towards was coaching. That has left Randy Carlyle sitting in limbo wondering if he'll be in charge of a confused Leafs roster or getting yet another fresh start with a new team.
Here is a list of the best possible Carlyle replaces.
Available:
Barry Trotz
Trotz is the frontrunner for many NHL teams with coaching vacancies. After spending an incredible 15-years in Nashville the team has decided to make a change. For Toronto, this would definitely help out with execution of the Leafs blue line.
It's up in the air as to whether the Leafs have the pieces necessary for a steady back end but with a defensive-minded coach like Trotz, things may just click. And it's hard to forget that he's coached the likes of Shea Weber, Ryan Suter and rookie defensemen Seth Jones. Not to mention current Leafs player Cody Franson, who Trotz got to work with before he made his made a stable contribution to the Leafs.
At the age of 51, the only question is Trotz's age and whether he'd be up for the stress-filled Toronto market.
John Tortorella
Tortorella is on the outside looking in…again. His run with the Canucks was anything but stellar. In the Tortorella-Vigneault swap, the latter won.
Tortorella, like Trotz, is a defense first thinker. He needs his back checking and shot blocking to be on point before anything else is addressed. The Leafs could, again, use some tighter defense, from all of their blue liners and even some of their guys up front. Kessel had a much better year defensively and still managed to be the team's best player.
The question with Tortorella would be whether his stress levels would be too high after back to back firings. Some time back with TSN may be what he wants and perhaps needs.
Peter Laviolette
The jump from a physical team like the Flyers to a team who can turn on that type of play when asked to wouldn't be too bad for Laviolette. After the Flyers awful start this past season, Laviolette was the odd man out. His style of play can be hard to see at times but generally his puck possession game would be greatly appreciated after the Leafs scrapped together their spot at 29th in league possession. He urges his blue line to open up space for his forwards and create chances for those long reach passes. He's also had some experience with some great players such as Giroux, Richards, Carter, Timonen and Pronger. Laviolette managed to get both the Hurricanes and Flyers to the Stanley Cup Finals, winning with the Hurricanes.
He seems to be able to push a team but it's just questionable as to why he had such high success with some of the best players in the league and then lost favour with them.
Adam Oates
Having not watched the Caps all that much (largely in part of their terrible season) it's hard to judge Oates off this season. Oates came into a team that had all-star caliber players and very little passion for the game. From an outside perspective, it's the passion that is lacking with the players in Washington. Seeing Alexander Ovechkin give up on plays is very disheartening. When the play has looked too far-gone most players, they would continue to grind it out and attempt to make a difference. Ovechkin has seemed okay with just heading to the bench. Oates wouldn't have to deal with that in Toronto.
The most Leafs fans could go off of would be Oates' playing and assistant coaching experience. During his playing career, Oates was one of the top playmakers and averaged 4th overall in assists per game. He would have a lot to work with in JVR, Bozak, Lupul and Kadri, fewer egos and more excitement to play and win as a team.
Questionable availability:
Dan Bylsma , Todd McLellan and Peter DeBoer
These three are more speculation then a possibility. McLellan and Bylsma are due for deep playoff pushes. But with the Sharks recent collapse in the first round and the Penguins lack of production in the postseason, despite having the best player in the NHL, it may be too late for these two. As for De Boer, he's just had to deal with huge free agency losses, an ageing hall of fame goaltender and a jump-ship-for-the-KHL sniper. Those are had blows to take but even then he's been able to instill some hope.
A Cup in 2009, making the playoffs in each season at the helm, and a trip to the Stanley Cup finals in 2012, all three have had consistent success. They've worked with some of the best players in the league and of all time. Perhaps the Leafs aren't a team to win with right now but any one of these proven coaches could bring experience and motivation to a desperate and idle roster. Even to keep some consistency and avoid last minute breakdowns.
The Toronto Maple Leafs are expected to decide Carlyle's future with the club later this week.
Love Reading About Hockey?

Subscribe to keep up-to-date with the latest and most interesting hockey news!
| | |
| --- | --- |
| | We hate spam just as much as you |