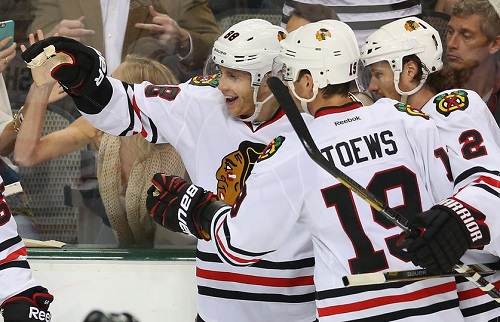 The Chicago Blackhawks struggled a bit in October with some disappointing performances, but November, so far, has proven to be a shift change.
Chicago has addressed their issue of offensive production as the roster names that have been expected to produce, did. Marion Hossa tallied two goals against Chicago's most recent game against the Dallas Stars, while fellow All-Star Patrick Sharp added four assists on the night. Patrick Kane and captain Jonathan Toews also netted goals.
It should be noted that Hossa has points in five of his last six games.
Those are the kinds of numbers, from the kinds of players that Blackhawk fans and front office expect. Thanks in part to those big names, Chicago has points in their last six straight games.
But the top offensive names aren't the only ones producing. Duncan Keith and Niklas Hjalmarsson have been making an impact in the offensive zone as of late.
Another big swing in the right direction for the Blackhawks has been their focus on the penalty kill. Chicago was previously last in the NHL in terms of their penalty killing abilities, but moved up three spaces to 27th in the league after Chicago went six for six on the penalty kill against Dallas.
Throughout their last seven games, Chicago has killed off 16 of their last 18 penalties for an 89 percent success rate.
While 27th out of 30 teams still isn't something to throw a parade about, it is a big improvement. Their 77.6 percent kill rate is a big step in the right direction and proof that the team is focused on sealing all cracks in the hopes of making another strong playoff push this year.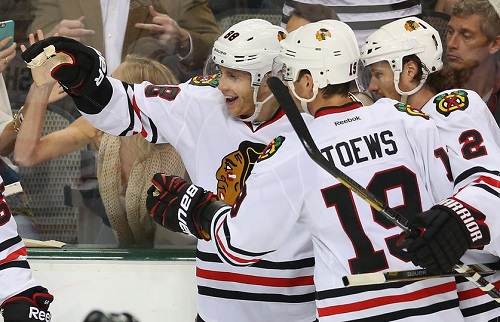 The team knows, thanks to the banners hanging overhead, that they are a target and examples for the rest of the league. By showing a constant drive to improve all aspects of their game, Chicago is demonstrating that they expect to remain in that exemplary position.
Aside from game-play, Chicago has made attempts at being a classy role-model organization. With returns to Chicago by former Cup winners Michael Frolik of the Winnipeg Jets and Dave Bolland of the Toronto Maple Leafs, Blackhawk fans have shown their respect. Both players got a warm ovation from the Chicago-faithful even though wearing opposing jerseys.
This display of respect harkens back to the traditions that make Chicago hockey emotional and a truly unique experience among the NHL community.
Opponents agree. Calgary Flames goaltender, Reto Berra commented on the Chicago atmosphere during the National Anthem.
"Crazy, awesome. I almost cried there," he said. "My hair stand up."
This isn't a new insight. Players of all teams have commented on Chicago's emotional wave during the anthem for decades. The point is, tradition hasn't faded and both the Blackhawk organization and fan-base take pride in being standouts among professional sports.
Just as long as opposing helmets don't end up in the stands.