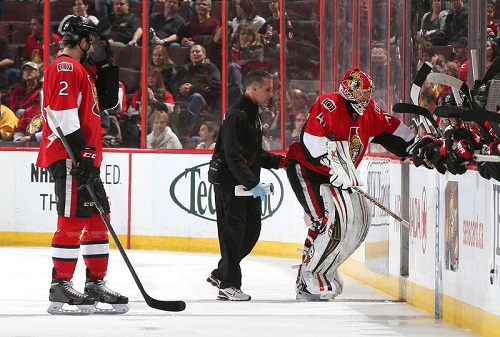 A newly-acquired Ales Hemsky had another three assists in the Ottawa Senators' 4-3 overtime loss to the Nashville Predators Monday.
"Well obviously that line has some good chemistry going, we better keep the Bunson burner on underneath them," McLean said of the Hemsky-Spezza-Michalek line.
Early in the game, the Predators' Shea Weber wired one on net and stung Senators starter Craig Anderson, but he stayed in the game. Moments later, Weber fired another howitzer which caught Cody Ceci up high. Ceci was cut open and was forced to leave.
Thanks for all your concerns just a cut and a little shaken up should be back at it soon enough.

— Cody Ceci (@Cecer_83) March 11, 2014
It was when Milan Michalek accidentally ran into Anderson in the third period when he too left the game and did not return.
"I'm not sure if he had a stinger or what it was, I didn't see him after the game. I haven't got a report that he's not alright," said McLean.
The Predators had a commanding 3-0 for the majority of the game until Jared Cowen finished on a nice give-and-go with Jason Spezza to cut the deficit to two. After Marc Methot buried another Spezza pass, the captain himself completed the comeback with help from, once again, Hemsky as well as Erik Karlsson with 1:07 remaining in the game.
It was Seth Jones that buried the Senators following a Ryan Ellis breakaway rebound orginally created by an offensive zone turnover.
Fans got excited when the Senators clawed back from a 3-0 deficit in the third period. But the latter part of that statement is why the team will struggle immensely with attempts to secure a playoff spot. For the greater part of the season, they have had trouble establishing and maintaining leads.
In their past seven games, tonight included, they've been out-shot 78-72 by the opposition in the first period. This has translated to the team giving up an average of 35 total shots and a sum of 29 goals in those contests.
Their record in the past seven games? A lousy 2-4-1 which has earned them five of a possible 14 points. And in order to have a measly 50/50 chance at a playoff spot, they need to bag 23 of 34 points in their final 17 games.
The bright light for the Senators? The first sentence of this article.