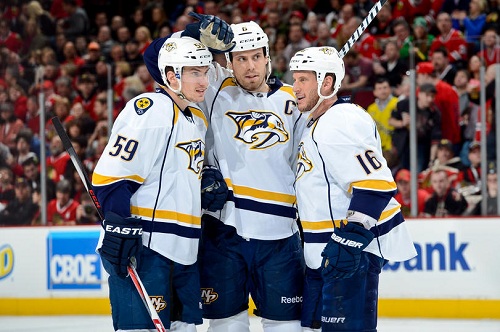 After a surprising move of trading veteran player Martin Erat, along with Milwaukee Admirals forward Michael Latta, to the Washington Capitals in exchange for top prospect Filip Forsberg, things seemed to be looking up for the Nashville Predators. All was not as it seemed as the Preds went on to go 0-3 over the past weekend.
Columbus 3 – Nashville 1
The Columbus Blue Jackets tallied a rare win on Nashville's home ice. Their 3-1 win over the Preds was just their seventh overall, first in regulation, since April 3rd, 2006 – a span of 22 games.
Columbus acquiring Marian Gaborik during the trade-deadline is paying off for them already.
After a slow first period, the Blue Jackets got on the board first with a power-play goal from James Wisniewski. During a 4-on-4 attempt between the two clubs, Predators captain Shea Weber was called for hooking at 8:21. 15 seconds later, Brandon Dubinsky sent the puck to Wisniewski who sent a slap shot past Pekka Rinne from the high slot. Gaborik got a secondary assist on the goal, giving him his first point in his first game with Columbus.
Predators defenseman Kevin Klein tied it for Nashville at 12:14 of the second period after catching Blue Jackets goalie Sergei Bobrovsky without his stick, which was laying in front of him in the crease. Bobrovsky tried to slide left, but missed the puck as Klein sent a wrist shot past him and into the net.
Gaborik gave Columbus the go-ahead goal at 4:16 of the third after redirecting a backhand attempt from Dubinsky.
Matt Calvert gave Columbus an insurance goal at 10:50 after sending a wrist shot from just inside the blue line that hit Rinne's blocker, but then bounced over his arm and into the net.
It was a hard loss to swallow as the Predators are fighting for points in the standings.
Nashville outshot Columbus 39-38.
Chicago 1, Nashville 0
The Chicago Blackhawks are a team that Nashville, along with every other team in the Western Conference, want to take two points from.
With only nine games remaining in the regular season, the Predators knew just how important it was to beat the Blackhawks, but it seems that Chicago offense was just a bit better. Their defense wasn't lacking either.
Bryan Bickell scored the lone goal of the game at 5:31 of the first with assists from Michal Handzus and Marcus Kruger.
"That's a team that you've really got to play some boring hockey against," Ray Emery said of Nashville. "You just try to be in good defensive position and take advantage when you get the opportunity. And I thought we played that strategy to a T tonight."
The win improved Chicago to 12-0-1 against the Central Division this season. The also tallied two of the four points they needed to clinch a playoff berth.
Chicago 5 – Nashville 3
The Blackhawks took both back-to-back games against the Predators to notch a playoff spot. It's no surprise after they started the season with points in their first 24 games, setting a league record.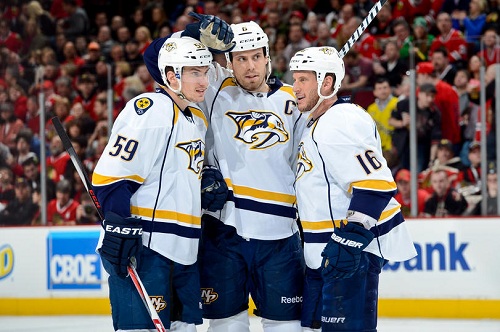 They also improved to 13-0-1 against the Central Division.
Both teams played without key forwards: Nashville was without Gabriel Bourque who missed his fourth straight game after an upper body injury, while Mike Fisher sat out after aggravating a hand injury that caused him to miss three games the week prior.
Chicago was without Patrick Sharp, who missed his 14th straight with a shoulder injury, and Dave Bolland was benched with a lower body injury believed to have been caused by blocking a shot by Shea Weber in their game against Nashville on April 1st.
Andrew Shaw opened up the scoring with a tip in past Rinne at 6:34 of the first period. Michael Frolik caught a rebound that Rinne hit towards the left boards, then turned and sent it back to the net. Shaw was in front to deflect it over Rinne's shoulder.
Predators forward Sergei Kostitsyn grabbed a loose puck after a turnover by Chicago defenseman Johnny Oduya and fired it from a sharp angle. Emery initially stopped the attempt, but Nick Spaling caught the rebound and buried before Emery could recover.
Chicago outshot Nashville 17-7 in the first period, but somehow the game was tied at 1.
Bryan Bickell, who scored Chicago's lone goal the day before, put them ahead at 2:09 of the second.
Shea Weber tied it for Nashville once again three minutes later. He fired from the top of the right circle after Spaling won the faceoff.
David Legwand buried a rebound, putting Nashville ahead 3-2 at 6:54 of the third after a big scrum in front of the Blackhawks net.
Brandon Saad tied it at 3 at 9:37. Duncan Keith fanned on a shot, then came in and fired one that Rinne blocked. Saad then converted the rebound.
Jonathan Toews netted the game-winner at 10:32, then Patrick Kane notched an empty-netter with 32 seconds remaining.
The game ended with Nashville being outshot 40-22.
With eight games remaining, the Predators chances of a playoff spot are slim. Their April schedule has been and will be their hardest of the shortened season. It may just be an outside-looking-in situation once playoffs arrive.
The Predators next game will be at home versus the St. Louis Blues tomorrow at 7:00pm Central.