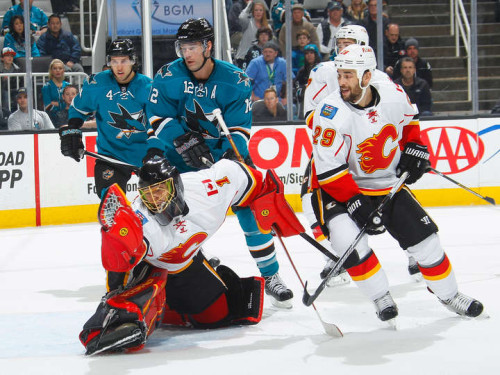 There hasn't been much opportunity for Calgary Flames to test their character this season: coming into 2014-15 with low outside expectations of success, there wasn't any need for the Flames to prove much of anything.
With just over two months remaining in the season, and the playoffs looming, much has changed for Calgary. They've found themselves in the middle of a playoff race – not just on the cusp, but in the thick of it – and it just got a whole lot tougher.
Being in the crowded Pacific Division is tough enough – having to fight it out with any or all of the San Jose Sharks, Los Angeles Kings, Anaheim Ducks and Vancouver Canucks in any given year. But the trade from Feb. 11 between the Winnipeg Jets and Buffalo Sabres added another layer of complexity to an already intriguing playoff picture.
Winnipeg was starting to slip, looking as though it might fall out of a playoff spot altogether, before acquiring Drew Stafford and Tyler Myers. Now the Western Conference needs to be on high alert with the Jets improving and the Minnesota Wild reversing their early season fortunes to scratch a claw back into the playoff race.
For the Flames, who sit three points behind the Jets for the first Wild Card (as of Feb. 13) and are two points away from being in sole position of second in the division, the importance of their final 27 games cannot be understated. One slip up (a multi-game losing streak) could be the kiss of death for their playoff hopes.
Fortunately for the Flames, their hands are not tied in all this: Of those 27 games, five include matchups against teams currently battling with them. They still have games remaining against the Canucks, Wild (x2), Kings and Jets – the latter two being the final games in Calgary's season.
All this is to say the final stretch won't be smooth sailing – not that it has been thus far. But the character of this young team will surely be tested, playing more meaningful games this late in the season than anyone in the organization could have expected.
Will they fold under the pressure? Will they excel in the clutch? Safe to say even the players don't have an answer at this point. But the heat is on for the Flames and, aside from the valuable experience this will provide, the way the team responds will say a lot about who they are.