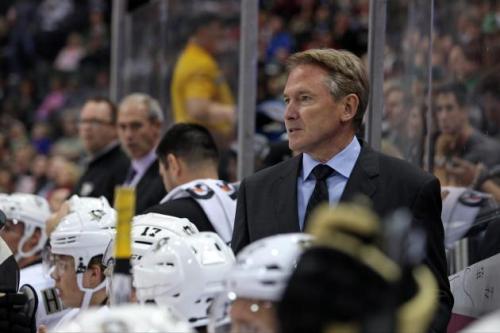 Pittsburgh Penguins Head Coach Mike Johnston is off to a great start with the Penguins. A 6-2-1 record is pretty impressive for someone who hasn't been behind an NHL bench since 2008, not to mention his first time as a head coach. But make no mistake, implementing a new system with this much success doesn't just come second nature to Coach Johnston. The man is a teacher after all.
It shows.
In the season opener against the Anaheim Ducks, the Penguins put up six goals, but not before giving up four to the Ducks, three of which came on the power play. Since then, the Penguins have only given up three power play goals in eight games, killing 22 straight.
Going into the final minutes against the Detroit Red Wings up 3-1, the Penguins failed to hold on, giving up two goals in the last three minutes of regulation and the eventual game winner with just 45 seconds left in overtime. Since then, the Penguins have found their dagger, scoring six of their last fourteen goals in the third period while not allowing anything in their own end.
Johnston hasn't been rattled by a couple of bad games either. The Penguins have found themselves trapped and flat-footed in their previous losses. Down 3-1 to the New Jersey Devils… well I'll let Jesse Marshall over at the PensBlog break that down for you.
Did I mention they shut out the defending Stanley Cup Champion Los Angeles Kings?
Dan Bylsma was always referred to as "the player's coach." Frankly, that title should be handed over to Mike Johnston and given a positive connotation.
Part of being a "teacher" is letting your "students" make mistakes. Instead of punishing that student, you show them how to learn from it. One example being on the New Jersey Devils' third goal Tuesday night:
Evgeni Malkin can't corral the puck. It goes between his legs and onto the stick of Jacob Josefson for a shorthanded goal on the ensuing breakaway.
Johnston could have scolded Malkin. Johnston could have taken him off the point on the power play. Johnston could have taken him off the top power play unit for the time being.
Instead?
I'm not going to say that happened because of something that happened on the bench, but I wouldn't be surprised if a lack of harsh criticism helped Malkin retain some confidence after giving up that breakaway about seven minutes prior.
Not to say that Johnston is going to let players roam around and suddenly start coaching themselves. Make no mistake, Mike Johnston is not coaching a country club. He knows exactly how much he can expect from his players and how far he can push them.
There was some criticism towards Johnston when he opted for an off ice workout with his players after giving up a 3-1 lead against the Detroit Red Wings. Many had flashbacks of the "country club." When in reality, maybe some conditioning for a team that couldn't finish strong was what they needed.
Johnston has shown he can coach two of the best players in the world. Johnston has shown that he can coach everyone else around them as well. But more importantly, he's shown that he can teach them far beyond X's and O's on a whiteboard.
While Johnston refuses to discuss and look ahead to the playoffs, you have to admit, it's rather exciting to think about seeing how the Pittsburgh Penguins Class of 2015 will look come graduation.
Love Reading About Hockey?

Subscribe to keep up-to-date with the latest and most interesting hockey news!
| | |
| --- | --- |
| | We hate spam just as much as you |