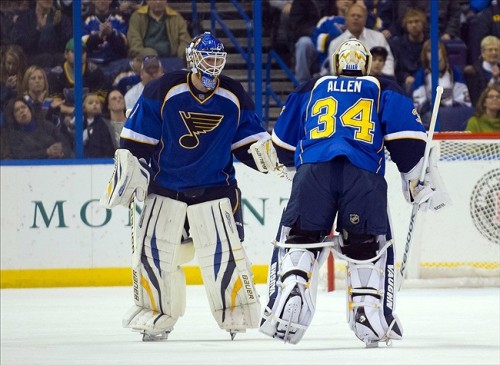 Last season was great for St. Louis' goalies: The team of Brian Elliott, Jaroslav Halak, Ryan Miller and Jake Allen allowed the third fewest goals of any team in the league (188).
But in the 2014-15 season the Blues will have a totally different look in net – and it could have some adverse effects on how successful the team can be. Halak was traded to the Buffalo Sabres for Ryan Miller at last season's trade deadline, and neither player will be returning this season.
That, of course, leaves the career backup Elliott as the only remaining player of the aforementioned trio with significant NHL experience. Allen has played all of 15 NHL games in his career, but despite that he will be battling for the number-one role.
Quite frankly, this duo is a definite cause for concern. Allen has had success in the AHL – and did well in those 15 games with the Blues last season – but it remains to be seen how he will perform at the professional level for more than just a few games. Elliott, meanwhile, has played more than 40 games just twice in his NHL career, so a heavy workload could alter his play.
What should be especially concerning is how the team's exit from the playoffs last season coincided with the sudden drop in Miller's play. For a team so dependent on goaltending to have success, carrying a duo such as that of Elliott and Allen is a giant risk, and one that could have negative repercussions.
But, of course, there's a reason games aren't played on paper.
Allen could end up really impressing in training camp, take the reins in net, start 50-60 games and help the Blues to the post-season yet again. That would leave Elliott in his familiar role as a backup, which would be the best case scenario, and would make the decision to let Miller walk seem genius.
If it doesn't work out, however, GM Doug Armstrong will likely be regretting the decisions he made on the road to failure. Though it may not have been the most popular idea at the outset, Armstrong should have considered the safe route by bringing in an established veteran to accompany Allen.
Going this route there would have been two main options: bringing back Miller or signing Jonas Hiller (and letting Elliott walk). Signing Miller or Hiller two a two-year contract would have helped the team be successful in the present and eased Allen into the starter's role.
Instead the Blues head into 2014-15 with more questions than answers in net. And in a division that – as a whole – has improved immensely from last season, the Blues can't afford to be asking questions about its preparedness at the most important position on the ice.