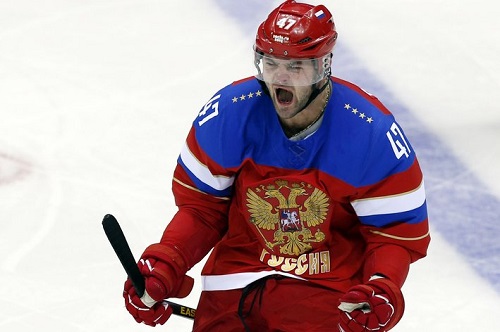 Alexander Radulov opened the scoring, added an empty-netter and one assist in Russia's 4-0 qualification win against the Norwegians at Bolshoy Ice Dome in Sochi Tuesday.
Prior to the win, head coach Zinetula Bilyaletdinov was disappointed with Radulov's first two tournament games and hinted that he would be a healthy scratch for their third and final preliminary game.
Instead, Radulov was inserted into the line-up and scored the game-winning shootout goal against the Slovakians after insisting that he be one of the shooters. He continued to be a factor in carving Russia's pressure-packed path to a gold medal.
With the three-point effort, the former Nashville Predators right winger moved into a second-place tie with Austria's Michael Grabner with six points through four games.
Though the score intimates an easy win, the Russians we're not overwhelmingly threatening throughout the game, scoring two goals in just over 37 total game minutes. The final two goals, however, we're scored 1:07 apart late in the third period.
Ilya Kovalchuk scored in the second, an opportunity largely created by a hard-working Radulov. The fourth and final goal was scored by Ak Bars Kazan center Alexei Tereshchenko after Radulov sealed the deal with the empty-net goal. Starter Sergei Bobrovski made 22 saves for a second-straight Russian shutout.
The Russians will now face Finland in the quarter-finals at 7:30 a.m. EST Wednesday.