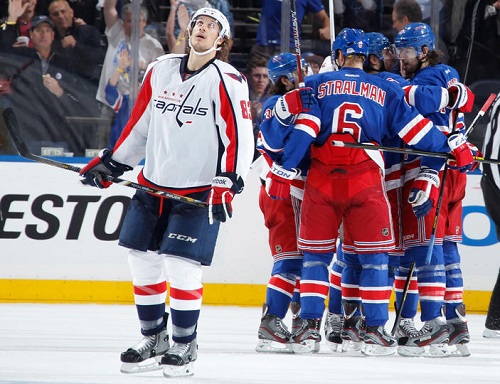 The New York Rangers are no strangers to playing in a Game Seven. With their Game Six victory over the Washington Capitals at Madison Square Garden on Sunday evening, the Blueshirts will be back in a Game Seven. This is their fourth seven-game-series in their last six series. This will be the third time the Rangers meet the Caps in a seventh game in that stretch. The home team has won the two previous seventh games, and the home team has held serve throughout their current series.
After losing a tough, overtime game in the Nation's Capital on Friday night, the Blueshirts came in to Sunday's Game 6 needing to win to keep their season alive. A Derick Brassard goal midway through the Second Period would be the lone tally on the score-sheet. New York goalie Henrik Lundqvist turned away all 27 shots he saw to make the one goal stand in his seventh career playoff shutout. While the Rangers power play was ineffective again (going 0 for 5), they played disciplined hockey five-on-five. Washington's Power Play unit never saw the ice, and the only penalties the Rangers took were in a scrum when the game ended.
The way this series has gone, all things indicate that the deciding game will be tight. After Game 1 (Caps won 3-1), every other game in this series has been decided by one goal. This was also the case in last year's playoff series, but the Rangers won Game 1 instead of Washington in the 2012 Conference Semifinals. One thing that surely isn't in the Rangers favor is that they've lost nine of the last ten playoff games at the Verizon Center.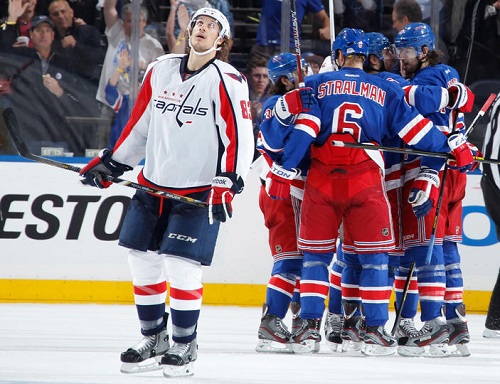 If the Rangers want to advance to the Second Round, the formula is real simple: stay out of the penalty box. Washington is 3-0 in games where they score a power play goal, 0-3 when they don't. A great performance will be needed again from Lundqvist, but the Rangers NEED to generate more offense. Capitalizing on the power play would be one way to help their offense, but there's little reason to believe that will happen considering the track record it's had. Heroes can come from anywhere in a Game 7, but the Rangers need their big names to step up. Rick Nash, Brad Richards, and Ryan Callahan have a combined four points in the series (one goal, three assists). In the case of Nash and Callahan, they've been seeing the Capitals best match-ups, but they still need to find a way. Getting a big performance from one of them could be the difference between a 2nd round Original Six match-up, or cleaning out their lockers this week.
Game 7 is Monday night at 8PM at the Verizon Center in Washington DC.