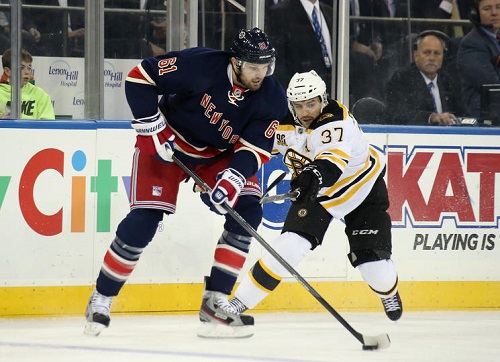 -Rick Nash made his return to the line-up this past Tuesday night in a 2-1 loss to the Boston Bruins. He didn't register any points, but lead the team (along with Mats Zuccarello) with five shots on goal. He didn't look like a guy who hadn't played for over a month, but will definitely need a little time to develop chemistry with line-mates Ryan Callahan and Brad Richards.
-Defenseman Michael Del Zotto will return to the line-up after being a healthy scratch for the past three games. Alain Vigneault explains why MDZ was watching games from the press box instead of the bench:
"I'd been told that his strengths are his ability to beat the forecheck, join in the rush, help out on the power play and get his shots through. I've not seen that on a consistent enough basis for him to be able to say he's going to be in the lineup every night."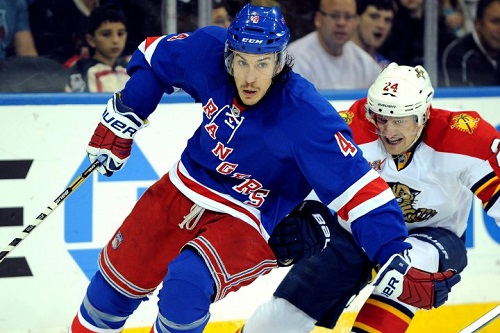 -Beyond all of this, the young defenseman's name has been bandied about the league's rumor mill recently. The Edmonton Oilers and last year's 1st overall pick Nail Yakupov were the parties linked to Rangers trade rumors a couple of weeks ago, but whether Del Zotto was a part of those discussions or not is a mystery. The Ottawa Senators are one of about five teams interested in MDZ. Obviously nothing has happened yet, but the 23-year-old RFA is in the final year of his contract, and his $2.55 million cap hit wouldn't be too tough for a team to digest. Justin Falk has been playing in Del Zotto's place. Falk isn't the offensive threat that Del Zotto is on the blueline, but he's a reliable stay-at-home defender and can hit. More importantly to AV, he's not a defensive liability, something Del Zotto has frequently been guilty of in the past.
-Winger Taylor Pyatt skated for the first time in practice on Wednesday since suffering a concussion on November 7th in Columbus. There is no timetable for his return yet, but skating on his own in practice is a good first step. When Pyatt does return, it could push the struggling Benoit Pouliot in to healthy-scratch status.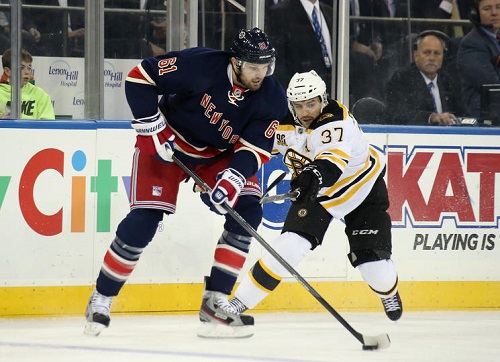 -The Rangers begin a five game road trip tonight in Dallas. After tonight, they'll be in Nashville on Saturday night, Tampa Bay on Monday, Florida on Wednesday, and finish the road trip with a matinee against the Bruins on Black Friday. Their first home game after the trip will be John Tortorella's return to MSG with the Canucks in the second of back-to-back afternoon games on Saturday.