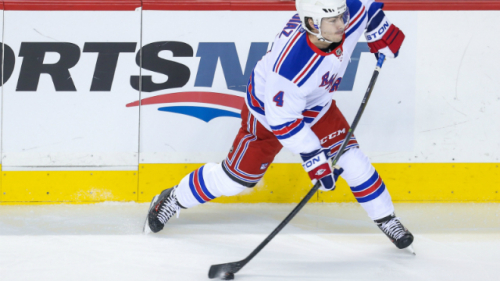 The Calgary Flames got some more depth on the back end – albeit temporary for now – as veteran defenseman Raphael Diaz accepted the team's professional tryout offer and will be at the team's training camp.
Diaz opted for Calgary, despite there reportedly being an invitation on the table from the Detroit Red Wings. More importantly for Calgary, Diaz's presence in training camp means the team has the potential to add yet another veteran to an already experienced blue line.
Diaz, at 28 years old, played eight years in the Swiss-A League before joining the NHL with the Montreal Canadiens in 2011. Since then he has spent three seasons in the NHL with three teams: the Canadiens, Vancouver Canucks and New York Rangers.
On top of professional experience, Diaz also brings with him some international experience having played for Switzerland in both the Vancouver and Sochi Winter Olympics. His familiarity with Flames prospect Sven Baertschi – also a Swiss national – could prove helpful for the younger Baertschi as he tries to crack the NHL roster.
But perhaps Diaz's most valuable addition to the Flames' camp is the competition he will create.
Heading into camp the Flames are carrying many defensemen, but there already appears a likely top six: Mark Giordano, Dennis Wideman, Kris Russell, Deryk Engelland, Ladislav Smid and T.J. Brodie. Add to that mix Tyler Wotherspoon – a young roster hopeful – as well as Corey Potter and Diaz and the blueline situation gets even more crowded.
It seems likely Potter will spend his fair share of time in the minors – as his two-way contract indicates – but the addition of Diaz could be a strategic move more than anything. The Flames may be trying to use Diaz as motivation for Wotherspoon to elevate his play and push for a spot on the NHL roster.
And Diaz may, in fact, not be on the roster once the season begins. But he may not need to be to have an impact on the team.