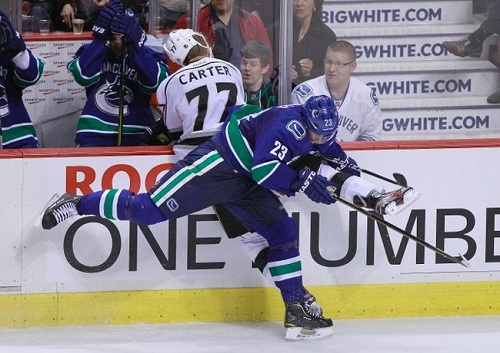 The Vancouver Canucks have cleared more salary off the books…well until the lockout is over anyway. Canucks D-men Alexander Edler and Jason Garrison who were both on the injured reserve with a Back and Groin/Abdominal Injuries respectively were still getting paid, but was just recently cleared medically and were booted to the curb with the rest of the locked out players. Edler said the bulging disc in his back may never be fully healed but would be able to play when the season resumes.
Garrison on the other hand says he couldn't have picked a better time for his worst injury yet. The newly signed Canuck began skating with out of work teammates Tuesday at the University of British Columbia after spending time on the injury block for the first three months of the lockout rehabbing a groin/abdominal injury.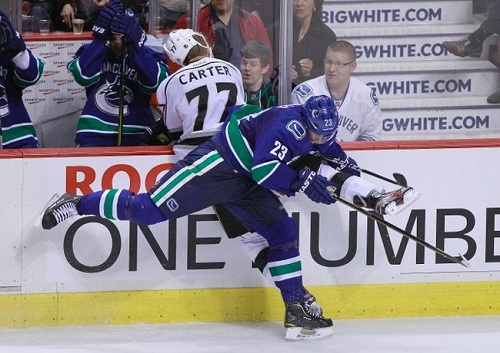 Garrison said he's had similar injuries before, but not to the extent that he missed more than a few games. Garrison said in September that he thought he'd be able to play if the season started on time, but the owners locked out the players and well you know the rest..
Garrison also mentioned he is glad his worst injury as a pro didn't cost him any games.
In other news another Canuck has bolted to Europe in hopes to get some hockey experience under his belt. Mason Raymond signed an 11 game contract with Orebro HK of Sweden second highest league, Hockey/Allsvenskan. Raymond becomes the fourth member of the Canucks to go overseas. Jannik Hansen, Cory Schneider, and Dale Weise all have signed contracts in Europe. Raymond will play his first game on January 3rd and spend the month in Sweden. It's unclear what Raymond will do after January, but if a season is wiped out, he will likely stay in Europe.